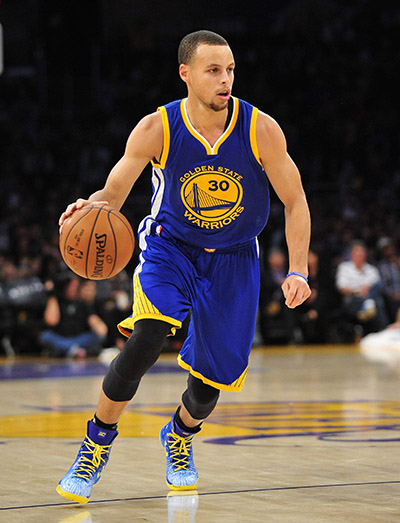 Golden State Warriors guard Stephen Curry (30) controls the ball against the Los Angeles Lakers during the first half at Staples Center in Los Angeles, Dec 23, 2014. [Photo/Agencies & Gary A. Vasquez-USA TODAY Sports]
NEW YORK - Cleveland's LeBron James and Stephen Curry of Golden State are the leading vote-getters in the first returns from NBA All-Star fan voting.
James had about 553,000 votes at the Eastern Conference frontcourt spot, where New York's Carmelo Anthony ranked second and Chicago's Pau Gasol was third in the results released Thursday. Washington's John Wall topped East guards, and No. 2 was James' former Miami teammate, Dwyane Wade.
Curry had more than 549,000 votes to lead second-place Kobe Bryant among West guards. New Orleans' Anthony Davis had the most votes in the West frontcourt, followed by the Clippers' Blake Griffin and Memphis center Marc Gasol.
Voting runs through Jan. 19, and starters for the Feb. 15 game in New York will be announced Jan. 22.