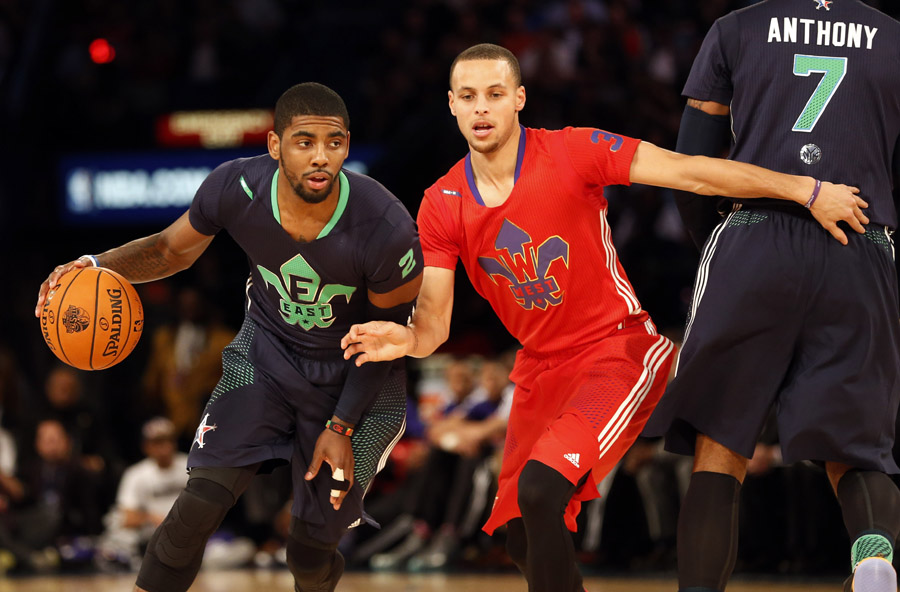 Eastern Conference Kyrie Irving guard (2) of the Cleveland Cavaliers dribbles around Western Conference guard Stephen Curry (30) of the Golden State Warriors during the 2014 NBA All-Star Game at the Smoothie King Center in New Orleans, USA, Feb 16, 2014. [Photo/Agencies]
Kyrie Irving and Carmelo Anthony set aside the unrest with their respective teams and put on a dazzling show that vaulted the Eastern Conference to a 163-155 comeback win over the West in the highest scoring NBA All Star game ever on Sunday.
Kyrie Irving scored 15 of his team-high 31 points during the back-and-forth fourth quarter duel and added 14 assists to seize MVP honors at the showcase in New Orleans.
Anthony added 30 and made an All Star record eight three-pointers, including a crucial one that gave the East a four-point lead with 1:04 remaining.
The East side trailed by 18 late in the third quarter, but rallied to light up the scoreboard in record-breaking fashion.
Western Conference stars Kevin Durant and Blake Griffin fired off 38 points apiece and shone bright as anyone with flamboyant dunks and long-range three-pointers.
The East got the final say, however, led by two players who likely needed the All Star break more than most.
Anthony has been the subject of much speculation as he is set to become a free agent in the off-season and could leave his under-achieving New York Knicks, though he reiterated his commitment to the franchise this weekend.
The third-year Irving is said to be unhappy in Cleveland where he has reportedly clashed with team mates and his coach during yet another losing season.
He looked plenty happy on Sunday, however, as he gelled with his fellow standouts including LeBron James who finished with 22 points, seven rebounds and seven assists.