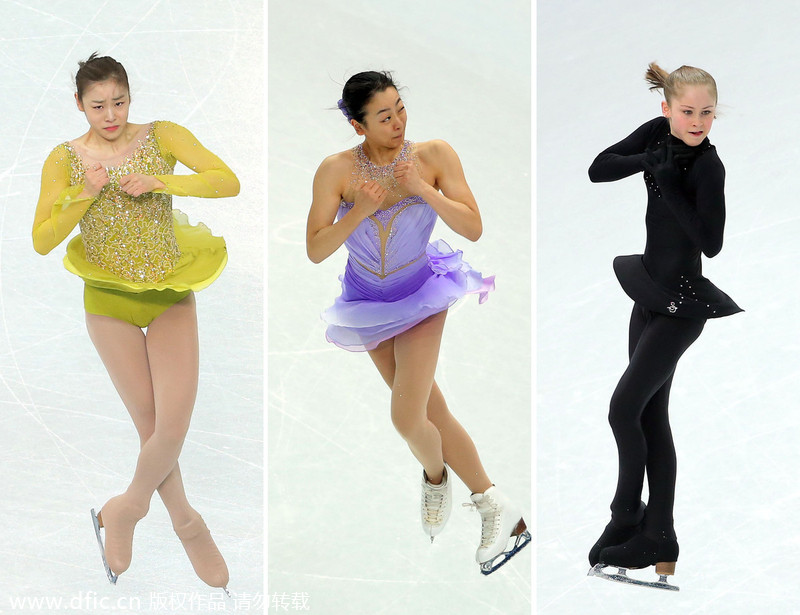 (From left to right) Kim Yu-na of South Korea, Mao Asada of Japan and Julia Lipnitskaia of Russia attend a training session before the women's short program final during the Sochi 2014 Winter Olympic Games in Russia, Feb 19, 2014. [Photo/icpress.cn]
SOCHI, Russia - Julia Lipnitskaia is back in Sochi.
Must be time for figure skating's main event.
The Russian teen practiced at the Olympic arena Tuesday morning after training in Moscow between the team event and the individual competition. Her performances Feb 8-9 rocketed her to instant international stardom, and for the week-and-a-half since, fans around the globe have eagerly awaited the chance to see her again.
That opportunity finally arrives Wednesday with the women's short program. And this time, Kim Yu-na will be skating too.
As brilliant as Lipnitskaia's performances were, they didn't come against the reigning Olympic gold medalist. South Korea didn't qualify for the team event, and Kim hadn't even arrived in Sochi when the 15-year-old Lipnitskaia departed for Moscow.
Kim was the sensation of the Vancouver Games, when she came in with massive expectations from her country and the world and somehow managed to outdo herself with a dominant victory.
"That was my time," she said Tuesday through an Olympic translator.
Kim insisted she was better four years ago, but if the world championships were any indication, she is still much more than good enough. After taking more than a year off, she won handily in March in her return to major competitions.
Yu-na sat out the recent Grand Prix season because of a foot injury, though she has looked as effortless as ever in her practices in Sochi. That missed time did add one twist to the short program: Because she wasn't able to rack up many points in international competitions, she is skating early Wednesday, in the third group out of five.
Lipnitskaia doesn't skate until the final group, which also includes Italy's Carolina Kostner and Japan's Mao Asada, the silver and bronze medalists at the world championships.