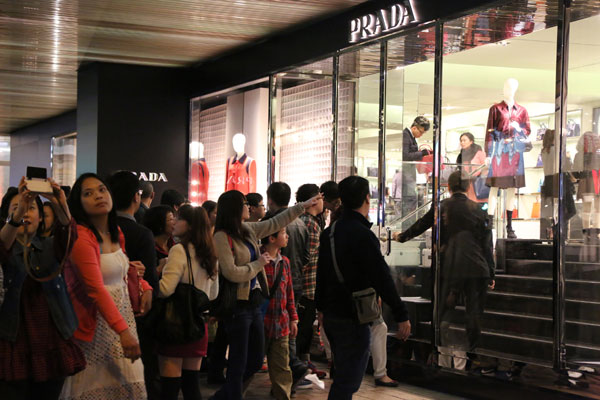 Chinese mainland visitors line up at a Prada shop in Hong Kong. Although growth has slowed for many luxury retailers in China, Chinese consumers last year still purchased luxury goods with an estimated value of $10.2 billion in domestic and foreign outlets, 47 percent of the world's total. GENG FEIFEI/CHINA DAILY
Sales of high-end items from foreign retailers in China slowed dramatically last year, necessitating new strategies going forward from brands such as Louis Vuitton, reports Liu Lian in New York
It's the largest consumer market in the world and potentially the largest market for luxury goods.
But 2013 was a tough sell for many luxury retailers in China, the world's second-largest economy. After a 7 percent rise in 2012, the luxury goods market declined to about 2 percent growth, with expectations of similarly slow growth in 2014, Bain & Co found in a recent study.
Despite the general slowdown, Chinese shoppers are the biggest buyers of luxury goods when they go abroad, according to the Bain study.
For foreign retailers selling luxury goods in the world's most populous country or considering setting up shop in it, it may be decision time: Stay and reduce operations? Or stay out until there is a rebound?
"I don't think brands are going to pull out or that new brands will stop investing in China," said Gregory J. Furman, founder and chairman of the Luxury Marketing Council. "But I don't think brands are going to invest as aggressively in retail as they did before."
"Most people who have been following the news should be getting the sense of potential in the long term, which is always the Chinese strategy. Any luxury brand that looks for the long term is not going to be daunted or discouraged by a momentary setback," said Furman.
Last year, more than half of major international retailers in China missed their target numbers for store openings, according to Knight Frank Research.
The property consultancy said that more than 60 percent of the 45 international retailers it surveyed missed their targets due to a range of factors, including difficulty in finding good sites and a slowdown in expansion plans as the government put the brakes on wasteful spending and corruption, which curbed a general demand for gifts.
Louis Vuitton, with 47 stores in China, exceeded its target for adding stores in 2013, but it announced last March it would curb expansion in China's second- and third-tier cities.
Since President Xi Jinping took office in November 2012, the anti-corruption drive has sent chills through China's luxury market. The average spending of China's high-net-worth individuals decreased by 15 percent in 2013, and spending on gift-giving plunged 25 percent, according to a Chinese luxury consumer survey released in January by the Hurun Report.