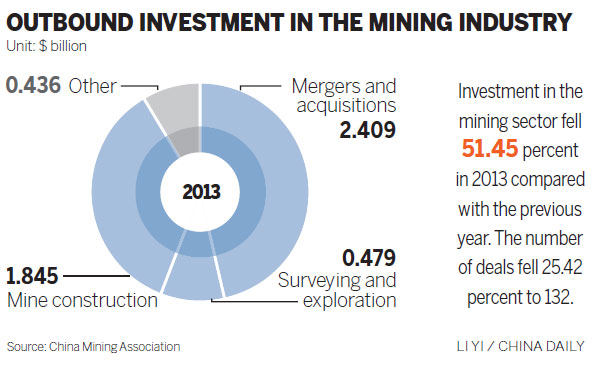 China's outbound mergers and acquisitions in the mining sector sank to decade lows last year in terms of deal numbers and volume, affected by domestic policy shifts and a weak economy, but an upturn is due this year, experts said on Tuesday.
Jeremy South, global mining leader at Deloitte Touche Tohmatsu Ltd, told China Daily that out of the past 10 years, 2013 was the worst for China's outbound M&As in the mining sector.
"The new leaders of the Chinese government have sent new messages about overseas investment and the nation's economic growth mode, which partially caused the decline in outbound M&A deals," said South.
"As the government's structure and policies stabilize, outbound M&A activity should increase this year."
According to the China Mining Association, domestic outbound investment in the mining sector fell 51.45 percent in 2013 to $5.17 billion. The number of the deals fell 25.42 percent to 132.
Chang Xingguo, project director of the association's international minerals and finance department, said Chinese companies are evaluating overseas investments more rationally.
"They also have to put greater emphasis on sustainable development in foreign countries," he said.
"The variety and quality of assets on the market has given Chinese investors a smorgasbord to choose from," said Michael Liu, partner of enterprise application with Deloitte.
"Some are active while some are cautious, preferring to wait for even lower prices."