China will soon release the details of a law to improve the social security network for the country's most vulnerable groups, a senior official said.
The new law could affect about 80 million low-income people, officials said.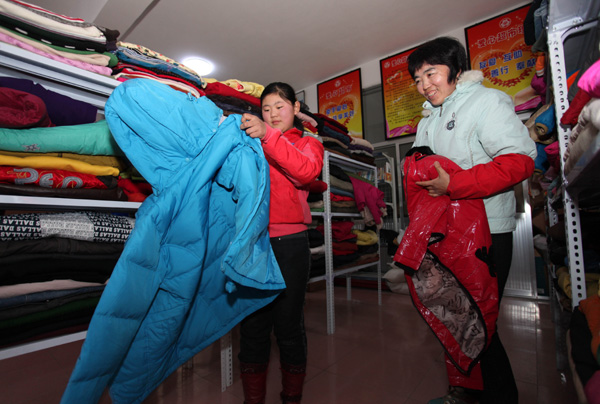 Villagers form Wendeng, a city in Shandong province, select clothes at supermarket operated by the city's women's federation. Evey year, the federation hands out free clothes and food to poor families in the city.[Photo/Xinhua]
Experts said the long-awaited legislation is vital, as people in need are resorting to extreme measures to get help.
Dou Yupei, vice-minister of civil affairs, said at a news conference in Beijing on Wednesday that the State Council, or China's cabinet, will release stopgap regulations that address social relief. Dou said the draft has been soliciting public opinion online since January, and the State Council has passed the revised version.
Dou said the regulations will provide a comprehensive safety net for the needy. He did not elaborate.
Lin Mingang, a professor in Nanjing University's social security department, said China's new leadership has made a priority of improving government's work to protect the welfare of vulnerable groups.
The Third Plenary Session of the 18th Central Committee of the Communist Party of China stressed that the market should play a decisive role in resource allocation and an important goal of government is to provide "the last line of defense" in protecting the rights of the underprivileged, Lin said.
Premier Li Keqiang stressed the importance of social assistance work when he visited a social relief center in Ankang, Shaanxi province, in January. Li urged all levels of government to do a better job of providing basic welfare to disadvantaged people.
Lacking an effective social assistance network, many people's lives have been turned upside down when they became victims of natural disasters, diseases or other catastrophes.
In 2012, Zheng Yanliang, a poor farmer from Baoding, Hebei province, amputated his diseased leg with a knife and a hacksaw at home after local hospitals refused to take him in because he could not pay for treatment. After Zheng's story spread through media reports and online posts, a local hospital offered to help, and donations flooded in for the 47-year-old.
But the existing social relief system has been criticized for its loopholes that allow welfare fraud. A millionaire in Beijing had claimed monthly minimum living allowances for 10 years until his half-brother turned him in to the local civil affairs department in 2010, Legal Weekly reported.
As of 2013, about 21 million urban residents were living on an average living allowance of 252 yuan ($41.50) a month, and about 54 million low-income residents of rural areas have a monthly subsidy of 111 yuan, the Ministry of Civil Affairs said.
Zheng Gongcheng, a Renmin University of China professor who specializes in social security, said legislation on social relief has been discussed for two decades. He said a new law should stipulate the punishment for any fraud in the social relief system.