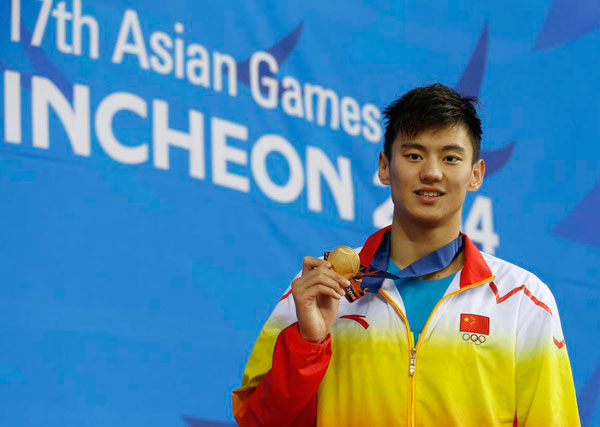 Gold medallist Ning Zetao of China holds his medal on the podium at an award ceremony after winning the men's 100m freestyle final swimming competition at the Munhak Park Tae-hwan Aquatics Center during the 17th Asian Games in Incheon, Sept 25, 2014. [Photo/Agencies]
Despite the doping scandal involving star swimmer Sun Yang, Chinese swimming team still dominates the nomination list for the 2014 CCTV Sports Personality of the Year Award.
The team saw its athletes nominated in seven out of the 10 categories of the annual prestigious award with men's swimmer Ning Zetao and women team's Ye Shiwen among the nominees for the Sportsman and Sportswoman of the Year award respectively, according to the list announced on Tuesday.
Ning, who won four gold medals at the Incheon Asian Games, has also been nominated with three teammates in the Best Combination of the Year category for winning the men's 4x100m medley relay in Incheon.