China's table tennis player Wang Hao ended his prolific 16-year career on the national team on Saturday, with the lack of an Olympic singles' gold medal his only regret.
An emotional Wang announced his retirement at a private birthday party for teammate Hao Shuai's son, turning a toast meant to be celebratory a little melancholy, according to the Table Tennis World magazine.
Wang expressed his gratitude to teammates and mentors, some present at the party including Liu Guoliang, head coach of China's national table tennis team, who watched over Wang as one of his most accomplished protégés.
The 31-year-old has won 18 world champions titles since he was selected for the national team in 1998, but missed out on three consecutive Olympics singles finals in 2004, 2008 and 2012.
Known for his mastery of reverse penhold backhand playing style, Wang is expected to return to the People's Liberation Army Bayi Team, which trained him before his national squad stint, as part of its coaching team.
The men's national team is experiencing a transition as veterans such as Ma Lin, Wang Liqin and Wang Hao choose to retire and make way for younger talents.
Let's take a look at some of his glorious moments at world ping-pong stage.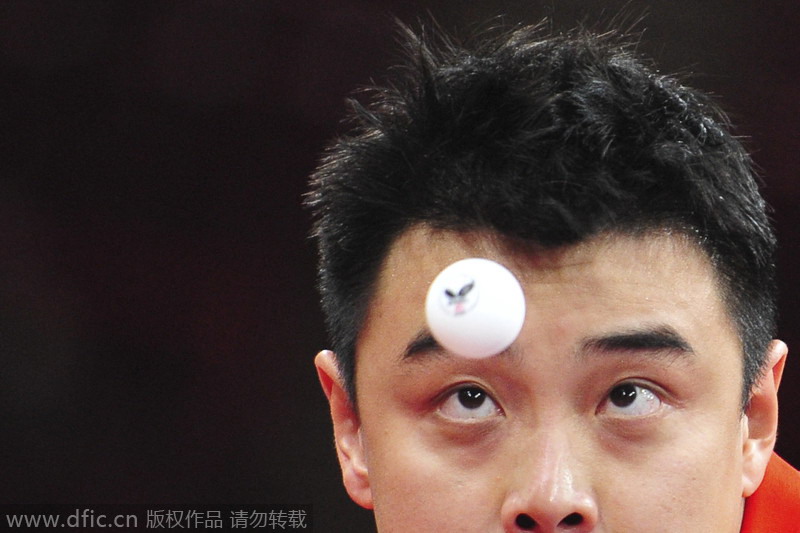 Wang Hao, champion of men's singles at Paris 2013 World Table Tennis Championships, reacts during the final match, May 20, 2013. [Photo/IC]