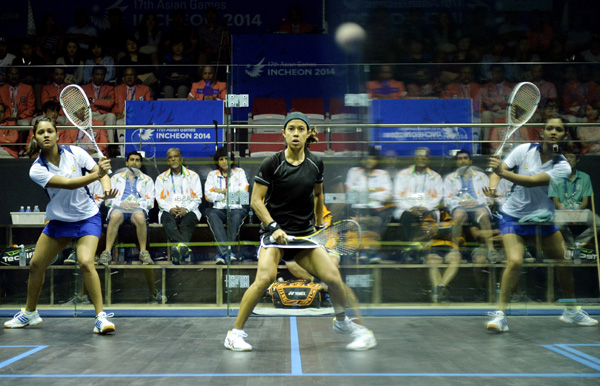 Malaysia's Nicol Ann David (right) watches a shot from India's Dipika Pallikal during the women's squash semifinal match of the 2014 Asian Games on Sept 22 in a photo taken from behind the court's clear glass wall, which created refracted images of the players. Without much government support and private investment, non-Olympic sports such as squash and baseball have failed to gain much traction with mainstream audiences on the Chinese mainland. [Photo/Agencies] 
Chinese events out of Olympic spotlight struggle to survive, Sun Xiaochen reports from Incheon, South Korea
When the South Korean baseball team completed its Asian Games semifinal against China on Saturday evening, more than 20,000 fans in the home crowd of Incheon's Munhak Baseball Stadium responded with thunderous applause and cheers.
FACTS
MAJOR NON-OLYMPIC SPORTS IN CHINA
Baseball and softball
Brought to China around 1840s by returned oversea students in Beijing and Shanghai, baseball slowly gained public recognition over more than 100 years until it was included in the first Chinese National Games in 1959. The development of baseball and its female version softball reached pinnacle before the 2008 Beijing Olympics when a seven-team professional league was held together with junior tournaments covering more than 200 amateur teams. Since excluded from the Olympic program in 2005, the game has been struggling to earn enough governmental support and investment.
Cricket
Originated in Britain and popular in commonwealth countries, cricket hasn't made any splash in China's sports circle until 2006 when the State sport governing body invited foreign coaches for Pakistan to develop the event for the 2010 Guangzhou Asian Games. The game is now played in about 60 secondary schools and colleges. Eight senior provincial and college teams play at the annual national championships to hone talents for the national squad on international stage.
Bowling
Once a popular sports recreational activity in metropolitans in China, bowling now struggles to continue appealing to the younger generation in China with a majority of commercial alleys and clubs shut down due to fierce competition against other urban entertainment activities like karaoke. Still, the small-ball governing body expects to raise the competitive level of the sport and rejuvenate its popularity at grassroots level.
Media groups jostled for camera positions, waiting for post-match interviews of the players.
But the Chinese squad, which lost 7-2 to the host, walked off the field without drawing much attention from the crowd or media.
The contrast did not surprise Wang Wei, a veteran catcher of team China, who attributed the cold reception to the sport's minor status in his country.
"We know the game enjoys huge popularity in South Korea but the incredible turnout at the stadium tonight was still impressive," Wang told China Daily after the match.
"I wish we could've drawn the same attention back in China. But I know it's not going to happen overnight as baseball remains a small sport without much public recognition in the country," said the 35-year-old who has played three Asian Games since 2006.
Without entries to the Olympic program, niche sports in China including baseball, cricket, sepak takraw and bowling are struggling to join the mainstream in China's Olympic-glory-obsessed sports system, in which Olympic events enjoy massive exposure and priority in the allocation of funds and other resources.
Despite its huge popularity in many countries, baseball struggles in China. Its national team competes at the Asian Games in obscurity compared to its gold-reaping swimming, table tennis and gymnastics counterparts, which enjoy high media exposure and massive support during the Asian Games.
The seemingly lack of interest also occurs in cricket, an iconic sport favored in Commonwealth countries such as India and Sri Lanka but which is played by no more than 200 athletes in China, said Ge Tao, a member of the coaching crew of China's Asiad cricket squad.
"The sport is totally new to the Chinese public and people usually confuse it with baseball or softball. There is still a long way to go for the sport to appeal to more people but its non-Olympic status makes that journey even more difficult," Ge said.
Including eight non-Olympic sports in its program, the ongoing Asian Games provides a rare opportunity for athletes engaged in those niche events to share the limelight while honing their skills on an elite level every four years.
To prepare for the Incheon Asian Games, China's sepak takraw national team drafted 29 players mostly from Tianjin University of Sport and the Physical Education College of Zhengzhou University, the only two universities promoting the sport in China, and trained them for four months with limited subsidy and on a shabby court abandoned by the TUS badminton team before the Asiad.
"The situation is really tough as we don't have many resources and support available. But we still value the Asian Games experience a lot as it is our only chance to represent our country in national attire on the world stage," said Xu Mingchi, a men's national team member.
Struggling careers
Only his two-decade-long passion for the game has enabled Wang Wei, a veteran catcher of the Chinese men's national baseball team, to stay committed to a sport with neither Olympic spotlight nor professional prosperity in his country.
"No audience, no sponsor and no media-it's really hard to make a decent living by playing baseball professionally in China but I never thought about quitting because I love the sport so much," said Wang, who signed a minor league contract with the Seattle Mariners of Major League Baseball in 2007 but did not get the chance to play.
Currently playing for the Beijing team as a registered athlete, Wang earns a monthly salary of up to 4,000 yuan ($652), about half of the daily earnings of his Japanese counterpart Yu Darvish, who signed a $60 million contract with the Texas Rangers for six years in January 2012.