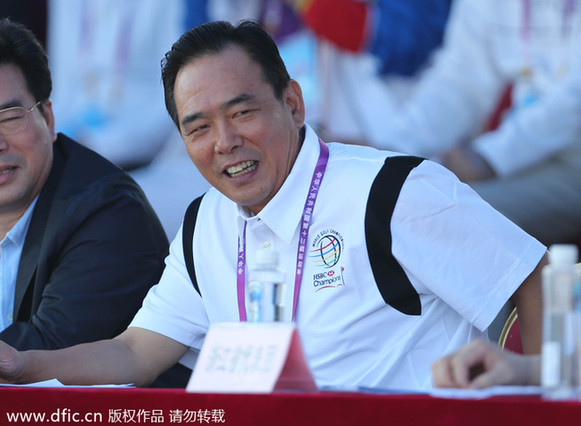 Cai Zhenghua in Dalian, Liaoning province, in this Sept 2, 2013 file photo. [Photo/icpress.cn]
XIANGHE, Hebei Province - China's vice-sports minister and ex-table tennis player Cai Zhenhua was elected president of the Chinese Football Association (CFA) on Tuesday.
In the first reshuffle of the CFA executive board in a decade, Cai was elected to replace the 75-year-old Yuan Weimin, who had remained as CFA president since 1992.
Cai, 53, won four world championships titles in his playing days and achieved greater success as a coach. He brought the Chinese men's table tennis team back to the top after he took over in 1991, and laid the foundation for China's dominance in world championships and Olympic Games in the past two decades.
Cai was promoted to the vice-presient of the State General Administration of Sports in 2007.
Highlights of Cai's speech after being elected
"I would like to be a paving stone for the Chinese Football Association (CFA)," Cai Zhenhua, China's vice sports minister and ex-table tennis player, said after being elected president of CFA at a conference held in Xianghe, Hebei province, on Tuesday.
"I do not have time to express my thanks and honor to the CFA members' conference, as we must act immediately to address China's football crisis."
"I will try to put Chinese football on course in a practical way, rather than just shouting slogans," Cai said in an analysis of Chinese soccer.
"We failed to qualify for three World Cups, and in particular, we need to remember the humiliating 5-1 defeat to Asian underdog Thailand in June last year. We have got to start taking steps for the rise of Chinese football, if things are going to change," Cai said dramatically, China News Services reported.
Related: