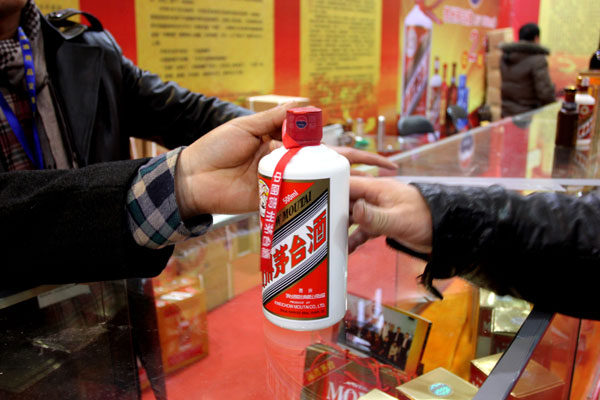 Kweichow Moutai Co Ltd plans to expand production to 100,000 tons this year, up 25 percent year-on-year, said the company's chairman. Provided to China Daily 
Liquor maker's goal is lowest in 5 years amid govt austerity campaign
Kweichow Moutai Co Ltd, maker of what is known as the "national liquor" of China, announced on Wednesday it was lowering its sales target this year to 43.9 billion yuan ($7.16 billion) - which, at only 9 percent growth, is the first time the company has projected a single-digit rise in the past five years.
In mid-January, the company said it was anticipating 12.5 percent growth in 2014 and that it expected to break 45 billion yuan in sales.
Then President Xi Jinping's crackdown on corruption and lavish consumption began being felt as Spring Festival galas and parties were canceled.
However, Yuan Renguo, chairman of the Guizhou-based manufacturer for white spirits, said: "The growth rate is not what we are looking at. The most important thing is to maintain a steady growth..
He added the company is expanding its customer base from the public sector to individual and corporate consumers.
Yuan, also a member of the National People's Congress, said the company plans to expand production to 100,000 tons this year, up 25 percent year-on-year.
"We can't simply rely on sales to government departments; in fact, our sales from the public sector accounted for a mere 7 percent last year," he said on the sidelines of the ongoing national two sessions.
Moutai, a staple of lavish Chinese banquets, dates back to the Song Dynasty (960-1279) and is often served at high-level functions or given as a preferred gift for government officials.
But its price tends to be beyond the reach of the average person.
At upscale locations such as Beijing's Ritz-Carlton hotel, a bottle of the 50-year-old blend can sell for as much 78,888 yuan.