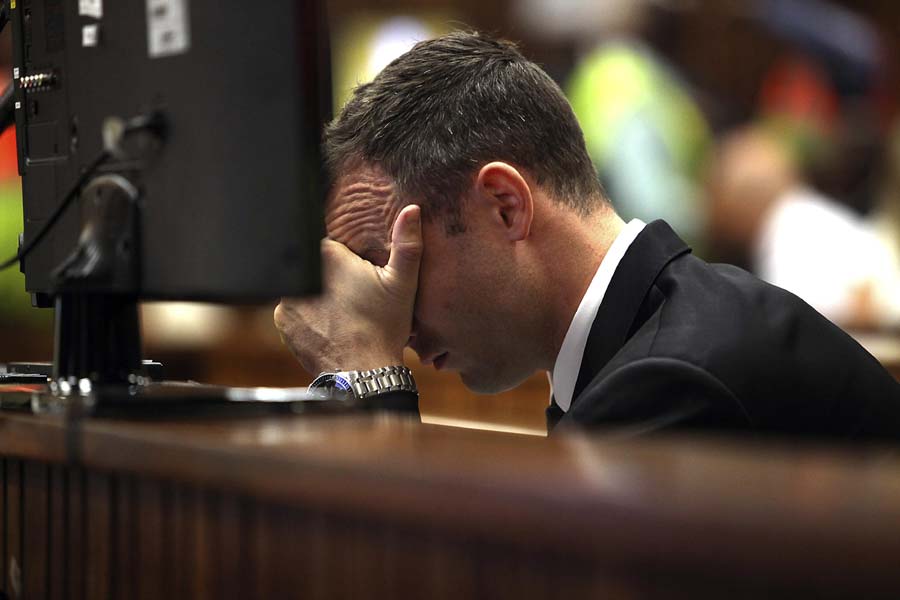 Olympic and Paralympic track star Oscar Pistorius sits in the dock on the third day of his trial for the murder of his girlfriend Reeva Steenkamp at the North Gauteng High Court in Pretoria, March 5, 2014. [Photo/Agencies]
PRETORIA - "Blade Runner" Oscar Pistorius told a friend to take the blame for him accidentally firing a pistol under the table in a packed Johannesburg restaurant in January 2013, a month before he killed his girlfriend, his murder trial heard on Wednesday.
Testifying at the trial of the South African Olympic and Paralympic track star, professional boxer Kevin Lerena described how he, Pistorius and two others had been having dinner at Tashas restaurant when the gun went off.
The charge of firing a gun in a public place is part of prosecution attempts to portray the 27-year-old athlete, who shot dead model Reeva Steenkamp on Feb 14 last year, as a firearms-obsessed hot-head.
Pistorius denies murdering Steenkamp, saying he fired four rounds from a 9 mm pistol through a locked toilet door at his luxury Pretoria home after mistaking her for an intruder.
Lerena, who goes by the ring name "The KO Kid", said one of the group at the table in Tashas, Darren Fresco, passed his pistol under the table to Pistorius during the lunch, telling him there was "one up", indicating a round was in the chamber.
"A shot went off. Then there was just complete silence," Lerena said. "I looked down at the floor and exactly where I looked down, where my foot was, there was a hole in the floor."
"I had a little graze on my toe, but I wasn't hurt," he added.
Restaurant owner Jason Loupis told the court 220 diners had been present at the time. A child was sitting at the table next to Pistorius, his wife Maria added in her testimony.