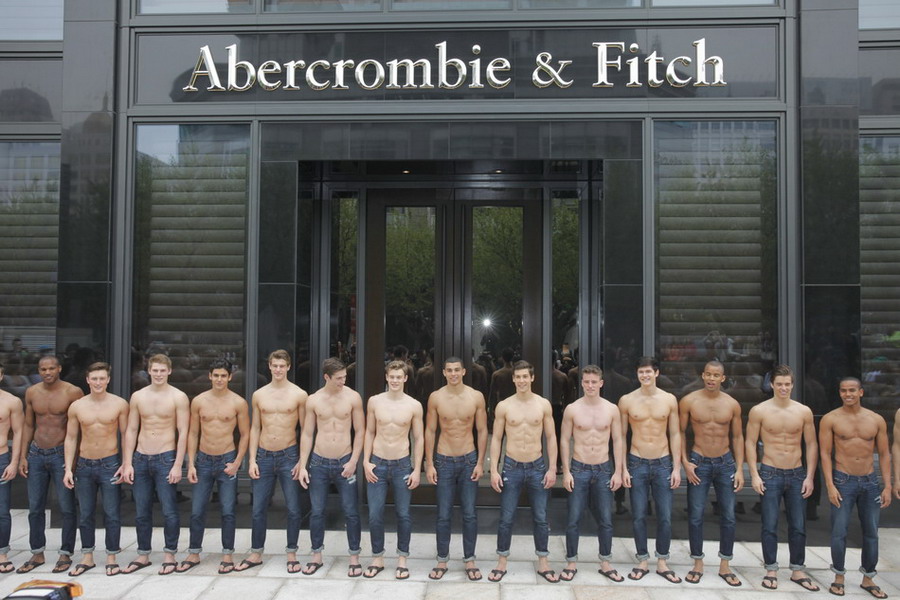 Models of Abercrombie & Fitch greet visitors during a media preview of its new flagship store in Shanghai on Thursday. The four-story shop, its first flagship store on Chinese mainland, will open on Saturday. Yang Lei / For China Daily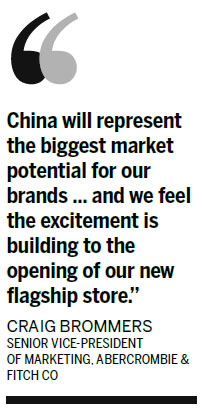 Clothes retailer Aber-crombie & Fitch Co plans to open more than 100 stores in China under its A&F and Hollister brands over the coming decade, ploughing a new furrow in what it calls "casual luxury."
China is the biggest growth opportunity for the New Albany, Ohio-based company, Senior Vice-President of Marketing Craig Brommers said in an interview. It will launch a local e-commerce site later this year.
"China will represent the biggest market potential for our brands," Brommers said. "We are entering with strong brand awareness and we feel the excitement is building to the opening of our new flag-ship store."
The flagship is in a four-story glass building on West Nanjing Road in Shanghai's Jing'an district, a major commercial area for shop-ping, sightseeing, hotels and office buildings that draws many locals and overseas visitors.
Like its other leading stores around the world, the Shanghai outlet features greeters, store models, heart pumping music, classic lighting and the scent of Fierce cologne.
It will help Abercrombie stand out in a crowded market place, Brommers said.
Still, China's retail land-scape is developing very quickly and it is hard to predict the future, he said. Big cities like Beijing and Shanghai have been especially crowded with new retailers opening shops almost weekly.