Season concludes with medals, plans to be host city, Lei Lei reports
With the Men's Curling World Championships closed in Beijing, the 2013-14 winter season drew to an end on April 6.
The Chinese winter sports athletes achieved good results in this Olympic season.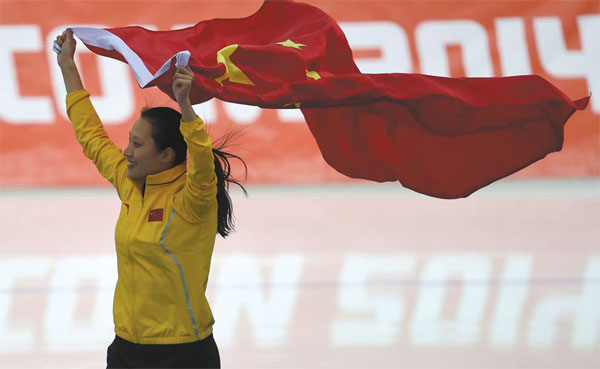 Gold medalist Zhang Hong celebrates with the national flag after the 1,000 meter women's speed skating finals at the Sochi Winter Olympics in February. Damien Meyer / AFP
At the recent Sochi Winter Olympic Games, China claimed three gold, four silver and two bronze, ranking the 12th at the medal tally.
Although China's standing dropped from seventh in Vancouver to 12th this time, it is the second best result that China has gained at the Winter Olympics.
At the Short Track Speed Skating World Championships later, China won two gold medals, one silver and one bronze. At the curling worlds, a young Chinese women's team ranked the seventh, while their men's counterparts finished the sixth.
At the figure skating world championships, China's rising star Li Zijun finished the 17th.
As a conclude of the four-year winter Olympic circle, the season saw both young athletes and veterans showed their bests and fighting spirit to the world, adding great support to China's bidding of the 2022 Winter Olympic Games.
Chinese President Xi Jinping also hailed the athletes' effort when he attended the opening ceremony in Sochi in early February. It is the first time a Chinese president has attended a major overseas sports event.
Xi called on Chinese athletes to live up to the Olympic spirit and help develop the country into a global sports power, when he made remarks while meeting with more than 50 representatives of Chinese athletes and coaches competing at the Games.
Xi said he expected the Chinese athletes to focus on "carrying out the Olympic spirit to establish a positive international image" for the country's bid to host the 2022 Winter Games.
At the Sochi Games, the very first Olympic speed skating gold for China in all the 10 Winter Olympics they took part in, came from Zhang Hong, a 25-year-old Harbin native, who basically remained unknown to most Chinese until her 1,000-meter triumph on Feb 13.
"Speed skating is as important in the winter games as athletics in the summer games, so Zhang's gold is a huge breakthrough in China's ice and snow sport history," said Xiao Tian, deputy director of China's State General Administration of Sport and also deputy chef-de-mission of the Chinese delegation in Sochi, after her victory.
The short track speed skating team did not disappoint either. Although the team captain and four-time Olympic champion Wang Meng missed the Sochi Games with an ankle fracture, her younger teammates did not let their supporters wonder too long before Li Jianrou seized the women's 500m title on the same day. Five-time world champion Fan Kexin added a women's 1,000m silver five days later.
"I am pleased with the team in Sochi. Wang's absence affected our medal prospect but the rest of the team did a good job. Silver and bronze medals from the men's side matters a lot," said Xiao.
The men's team rose back to world's top as well.
They failed to bag a single silverware in Vancouver and had only one bronze in Turino 2006. However, in Sochi, they just narrowly missed the top of the podium, several times.
The 17-year-old Han Tianyu emerged as a surprise medal winner in 1,500m, taking a silver before Wu Dajing, 19, finished runner-up in 500m. The duo teamed up with teenagers Shi Jingnan and Chen Dequan to take a bronze in 5,000m relay.
In the snow events, Xu Mengtao took China's third consecutive silver in women's freestyle skiing aerials and Jia Zongyang pulled off a bronze in men's event.
Short track speed skater Zhou Yang, the sole medalist who had Olympic experience prior to Sochi, successfully defended her 1,500m title.
The veterans also tried their best, without a medal, though.
Vancouver runners-up Pang Qing and Tong Jian, both of whom are 34 years' old, put an end to their career with a fourth-place finish in figure skating pairs event with two clean routines.
Related: