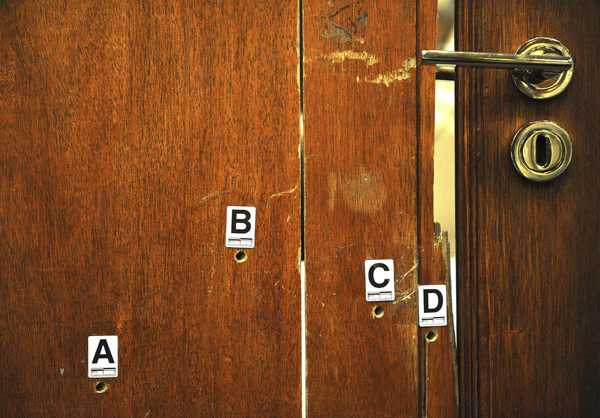 The door through which Reeva Steenkamp was shot is displayed during Oscar Pistorius's murder trial in Pretoria April 14, 2014. Olympic and Paralympic track star Pistorius is on trial for murdering his girlfriend Reeva Steenkamp at his suburban Pretoria home on Valentine's Day last year.  [Photo/Agencies]
PRETORIA, South Africa - Cross examination of murder-accused Paralympian Oscar Pistorius continued for the sixth day on Monday, with State Prosecutor Gerrie Nel trying to show the court that Pistorius's testimony was not unreliable and not true.
"Your version is so improbable that it cannot be reasonably, possibly true," Nel told the Pretoria High Court.
Pistorius is on trial for fatally shooting his girlfriend Reeva Stenkamp through a locked toilet door on the 14th of February 2013 at his house in Pretoria.
Pistorius said he shot Stemkamp, mistaking her for an intruder who had entered his house through the toilet window, but the state insisted that it was pre-meditated murder.
"It is a concocted version which you've tailored to fit the State's case," Nel said.
Nel also dismissed Pistorius' testimony that the two had eaten at 7pm on the night of the shooting, saying: "It is devastating for your version that eight hours after she was killed there was still that amount of food in her stomach."
In response Pistorius said, "I don't have an explanation for it. "
Nel also accused Pistorius of trying to tailor his story in a way that would show that Reeva had gone to the toilet without him noticing it.
"You have to create time. You have to, on your version, build in a time gap for Reeva to go into the bathroom."
However, Pistorius disagreed, "I'm not trying to buy time. I'm simply saying it as it is."
The cross examination seemed getting even tougher for Pistorius when the prosecutor accused him of arguing instead of answering question.