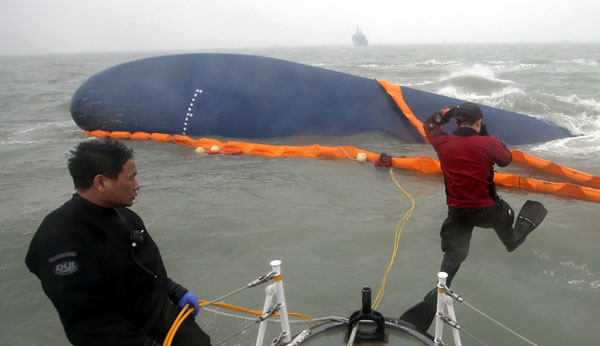 A South Korean diver from a private company jumps into the water to search for passengers who was on South Korea ferry "Sewol" which sank at sea off Jindo April 17, 2014.[Photo/Agencies]
SEOUL/JINDO, South Korea -- Military divers fought rising winds and waves on Thursday as they searched for hundreds of people believed to be still trapped inside a ferry that sank off South Korea's southern coast a day earlier.
Navy and Coast Guard divers tried to enter the capsized ship more than 10 times, hoping for a response from 284 people, mostly high school students, but were hampered by poor underwater visibility and strong currents.
Diving operations were suspended altogether around 1 pm due to bad weather, officials said.
Nine out of 475 passengers, mostly high school students, aboard the 6,325-ton ferry Sewol have been confirmed dead as of 2 pm, while 179 others have been rescued. But the fate of the remaining 287 remains unknown.
The water is very murky as currents stir up mud at the bottom of the sea, officials said.
"We carried out underwater searches five times from midnight until early in the morning, but strong currents and murky water pose tremendous obstacles," said Kang Byung-kyu, minister for security and public administration, during a press briefing. "We will do our best."
Also mobilized to scour the area are 169 boats and 29 aircraft, Kang said. Two salvage cranes are also on their way to the scene to raise the sunken vessel, with one of them expected to arrive on Friday morning and the other in the evening, the minister said.
Earlier in the day, the Navy established a military control tower at the 14,000-ton flat-deck amphibious assault ship Dokdo to support the Coast Guard's search and rescue operations under the commandership of Navy chief Adm. Hwang Ki-chul.
The Navy has dispatched 26 naval ships and three aircraft, as well as 92 divers from Ship Salvage Unit, 274 Navy SEALs and special forces for the rescue mission. On Wednesday night, the Air Force sent six CN-235 transport aircraft to drop 600 rounds of flares to help the nighttime search.
The Navy plans to mobilize its transport aircraft to continue to search the missing in dark using flares, officials said.
The ferry was on its way to the southern resort island of Jeju after from the port of Incheon, west of Seoul, when it sent a distress signal at 8:58 a.m. Wednesday. The circumstance leading to calling for help was not yet known, though survivors said they heard a bang before the vessel started tilting over.
Experts say the vessel could have hit an underwater rock.