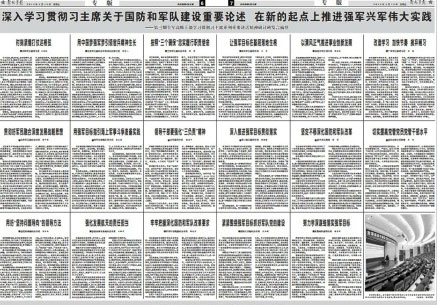 Screen grab from PLA Daily's official website, April 18, showing articles by 17 senior PLA officials. [Photo/www.chinamil.com.cn] 
BEIJING -- High-ranking People's Liberation Army (PLA) officers have again voiced support for President Xi Jinping's instruction to build a strong military, the second time this month they have voiced group approval.
The PLA Daily on Friday published articles by 17 senior officials from seven military regions, four general departments, the armed police, air force, navy and the second artillery force.
In a break from the group support voiced earlier, most are deputy heads, including deputy commanders from five military regions, assistants to the directors of four general departments and deputy political commissars of three military regions.
Those who published articles include Chong Tongyi, Beijing military region deputy political commissar;Wang Xixin, Shenyang military region deputy commander; Wang Jun, Jinan military region deputy commander; Xiong Andong, Fujian military region chief commander; Lu En'fu, deputy commander of the second artillery force; Zheng Qin, Guangzhou military region deputy commander; Miao Hua, deputy political commissar of Lanzhou military region; Cen Xu, assistant to the director of the general political department and Chen Yong, assistant to the chief of the general staff departments.
On April 2, chiefs of seven military area commands, the air force and the armed police as well as senior leaders of the navy, second artillery force, general political department and general staff departments, together 18 senior officials, published articles in the PLA Daily to echo comments on national defense and building strong armed forces made by chairman of the Central Military Commission Xi.