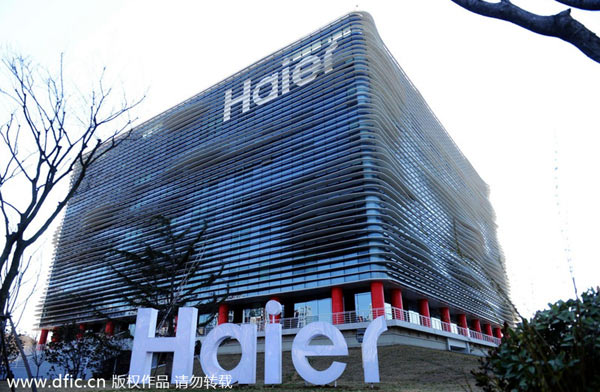 Photo taken on March 20, 2014 shows the Board of Directors' building of Haier Electronics Group Co Ltd in
Qingdao
. [Photo / dfic.cn]
GUANGZHOU -- Chinese manufacturers said they are not relying on a cheaper yuan for profits, despite criticism from the US accusing China of controlling exchange rates to boost exports.
The Chinese yuan dropped 2.7 percent in the first quarter against the US dollar, reversing several years of consistent gains.
"Regardless of depreciation or appreciation, the impact on us would be complex," said Sun Shubao, a senior executive of Haier Group, one of China's leading home appliance firms with 24 factories worldwide.
"The yuan's depreciation will not boost our exports as people assume," Sun said.
The general manager of Haier Overseas European Division said that, like many other international companies, Haier needs to transport products made in its Thailand factory to Europe, or from Indian factories to Africa.
"For Chinese manufacturers, we cannot simply rely on a cheaper currency to achieve growth," Sun said.
In 2013, Haier's global turnover reached 180.3 billion yuan (about $28.97 billion), with profits over 10 billion yuan. According to statistics from market researcher Euromonitor, Haier has been ranked the world's largest household appliance brand for five consecutive years.
Haier is among many other leading Chinese manufacturers attending the ongoing China Import and Export Fair who believe currency fluctuation is a normal phenomenon and should not be a cause for concern.
Zheng Baoquan, general manager of construction materials company Guizhou Spangle New-style Building Materials Co Ltd, said the currencies of some emerging economies, such as Brazil and South Africa, are depreciating at a faster pace, so the effective exchange rate of the yuan is actually appreciating, weighing on Chinese exporters.
Wu Jianfeng, general manager of Hongyu Ceramics, another construction materials company, said that the company's export volume had been stable over the past two years, while growth remained difficult.
"The reasons for the flat figures vary, including sluggish international demand, antidumping disputes, and others. Currency fluctuation is just one factor," said Wu.
"The currency is not affecting too many of us. Though it has depreciated recently, we have also prepared for a gaining yuan in the future," Wu said. "Our strategies for growth are to continue to invest in R & D and keep making new products with low price sensitivity."