Tackling Football Corruption
Updated:2011-12-16 09:21
(chinadaily.com.cn)

Xie Yalong charged with taking 1.7 million bribes

Xie is believed to have taken more than 2 million yuan ($317,000) in bribes during his tenure, while his successor, Nan, is reported to have taken around 3 million yuan ($476,000). The two face possible prison terms of more than 10 years.

'Golden whistle' loses lustre on stand

Lu Jun, the country's best known Chinese soccer referee who once officiated World Cup and Olympic Games and was dubbed "golden whistle", stood trial on Wednesday. More News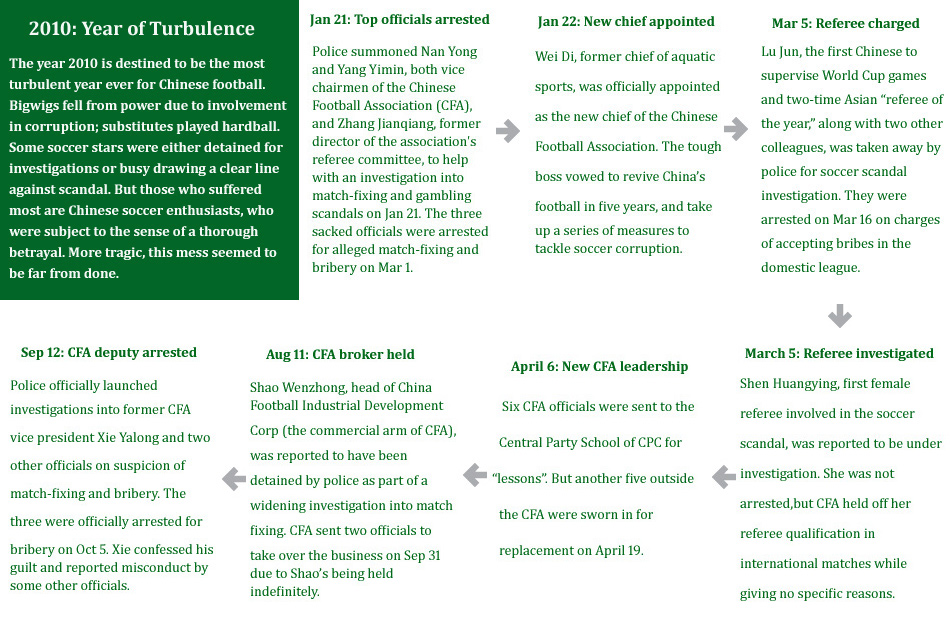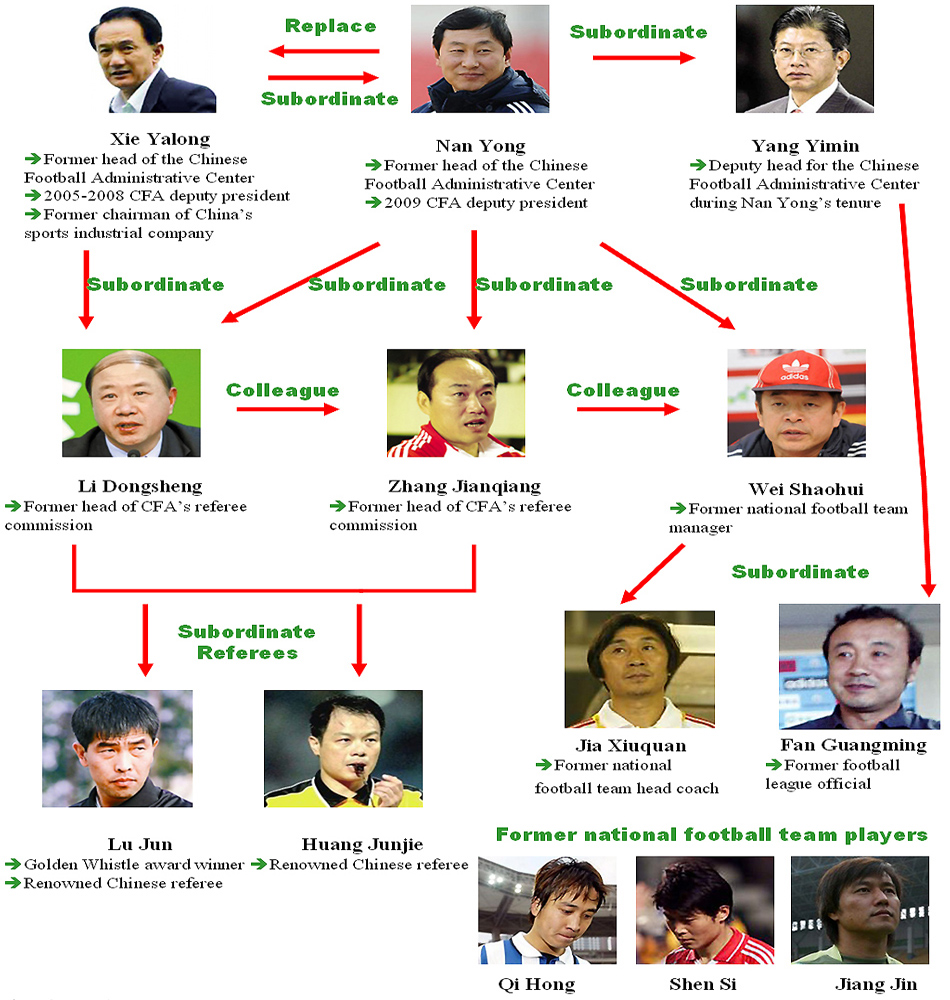 Sports Lotteries

On-line Gambling

Legislation

'Let lotteries fight against online gambling'
Expanding China's lottery industry is key to combating the growing level of illegal online sports gambling, which is already worth more than 1 trillion yuan a year, said a lottery expert. >>>

Legal betting goal for many
Zhu Kai has been losing a lot of sleep since the start of this year's FIFA World Cup finals in South Africa, although he is more worried about the amount of money he has lost. >>>


Gambling still a fact of Chinese life
From mah-jong on the streets of Chengdu to cockfights in Kaifeng, Henan province, gambling has long been a way of life for many people in China. Although it has been banned since 1949, gambling continues unabated. >>>

Police officer commits suicide for soccer betting debts
A Chinese police officer has killed himself after running up debts in online gambling on the football World Cup games, police said Thursday. Cai Jiabing, 31, was found dead Tuesday in his office chair in Hechi city, south China's Guangxi Zhuang autonomous region. >>>

China arrests hundreds of online football gamblers
Chinese police have arrested more than 810 online football gamblers during the World Cup as the Ministry of Public Security cracks down on domestic and foreign online gambling groups. >>>

Bet once, lose everything
"We lost our business, sold our house and now are in huge debt," said Wang Ningfang, whose husband, Liu Chunyang, lost 1.4 million yuan betting on football games online. "Our lives are now a total mess." >>>




Online gambler becomes Beijing's first to be jailed
A man has been jailed for one year and fined 10,000 yuan for helping others bet on soccer matches. Beijing's Dongcheng District People's Court passed the sentence on Zhao Yan on Wednesday morning. >>>


Authorities crack down on 600 online soccer gambling groups
Police have broken up 600 online soccer gambling groups and arrested more than 810 gamblers since the South Africa World Cup began. >>>

Football officials to stand trial on corruption
Legal experts said the current law does not cover the crime of match fixing and appealed for new legislation to be enacted. Yan Qiang, vice-director of Titan Sports, said that although the bribery suspicions were well founded, there was no evidence that Xie and Nan were involved in match fixing. >>>

Cleansing the soccer world
The ministries of Public Security and Justice began their investigation into soccer corruption in November last year. >>>




Longer sentences kick off for football gambling
People convicted of organizing football gambling can now be sentenced to up to 10 years in jail, instead of three as before, a Dongcheng district judge said. >>>

Former soccer chief summoned for bribery case
China has launched a new anti-corruption sweep on soccer after the police recently summoned former soccer boss Xie Yalong and two other CFA officials to assist in the bribery case of Nan Yong. >>>

2018&2022 FIFA World Cup Bids Scandal

The bidding process for the 2018 and 2022 FIFA World Cups was subject to controversy. Two members of the FIFA executive committee had their voting rights suspended following allegations that they would accept money in exchange for votes. England and Russia's respective bids also were subject to controversy following an official complaint based upon FIFA's rules regarding talking about rival bidders, though the complaint was withdrawn following Russia's apology.

Related readings:
IOC calls for crackdown on illegal sports betting
FIFA widens probe into World Cup bids corruption
FIFA suspends Adamu, Temarii from World Cup
Blatter: FIFA not corrupt, England is a bad loser

2006 Italian Football Scandal

The 2006 Italian football scandal involved Italy's top professional football leagues, Serie A and Serie B. The scandal was uncovered in May 2006 by Italian police, implicating league champions Juventus, and other major teams including Internazionale, Milan, Fiorentina, Lazio, and Reggina when a number of telephone interceptions showed a thick network of relations between team managers and referee organisations. Juventus were the champions of Serie A at the time. The teams have been accused of rigging games by selecting favourable referees.
1993 French Football Scandal


The scandal struck French football in 1993 when Olympique de Marseille shocked AC Milan in the final to win France's first ever Champions League title under the new format. That triumph was the highlight of Marseille's four League titles and one French Cup honor between 1989 and 1992. But the celebrations back home did not last long as allegations of match-fixing soon emerged. It was discovered their president Bernard Tapie had bribed French club Valenciennes FC into throwing a league game, allowing Marseille to win the title and giving them more time to concentrate on the final against Milan. Marseille were stripped of the French title that season and later relegated to the second division over financial irregularities, which caused the club to spend two years out of the First division. Former cabinet minister Tapie was heavily implicated in the scandal and was later imprisoned.