Blatter: FIFA not corrupt, England is a bad loser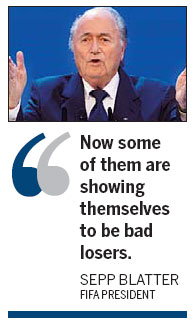 ZURICH - FIFA president Sepp Blatter has rejected allegations of corruption at soccer's governing body after Russia and Qatar won the right to host the 2018 and 2022 World Cups, calling England "bad losers" for their reaction.
"To be honest, I was surprised by all the English complaining after the defeat. England, of all people, the motherland of fairplay ideas," Blatter told Swiss weekly magazine Weltwoche in an interview released ahead of publication on Thursday.
"Now some of them are showing themselves to be bad losers," he said. "You can't come afterwards and say so and so promised to vote for England. The results are known. The outcome came out clearly."

Today's Top News
Editor's picks
Most Viewed