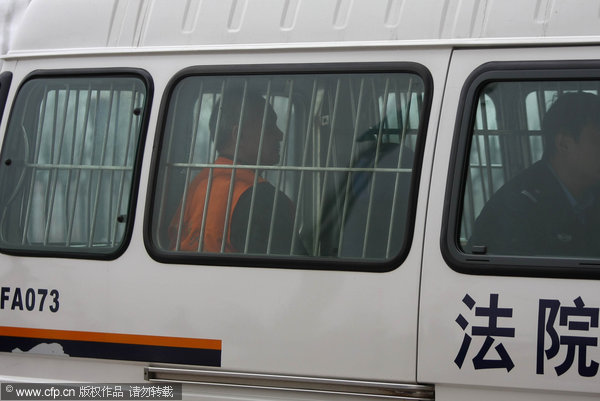 Xie Yalong arrives at the Dandong Intermediate People's Court in Dandong, Northeast China's Liaoning province, April 24, 2012. [Photo/CFP]
DANDONG, Liaoning province - Former Chinese Football Association (CFA) chief Xie Yalong has been charged with taking over 1.7 million yuan (about $273,000) in bribes as a northeastern Chinese court opened the second round of trials on soccer corruption on Tuesday morning. [Special coverage]
The 56-year-old Xie, who had been the CFA chief for three years before handing the job to Nan Yong, faces 12 counts of bribe-taking totaling 1,727,800 yuan at Dandong Intermediate People's Court.
Xie's attorney Jin Xiaohui told the Chinese portal Sina that the former soccer head had denied "parts of the charges" against him in the court.
Jin also claimed Xie was tortured into a guilty confession during his detention and was told his family would be held in custody until he admitted the crime.
Nan will also stand trial on bribe-taking charges in a different court in Liaoning province on Wednesday.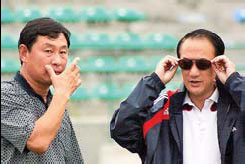 Former CFA vice-presidents Xie Yalong (R) and Nan Yong. [File photo]
Xie and Nan are the highest ranking officials caught in China's ever-widening crackdown on soccer corruption, which has brought down dozens of high-ranking soccer officials, referees and players.
Xie is believed to have taken more than 2 million yuan ($317,000) in bribes during his tenure, while his successor, Nan, is reported to have taken around 3 million yuan ($476,000). The two face possible prison terms of more than 10 years.
Wei Shaohui, the former Chinese national team manager, and Li Dongsheng, the former chief of the CFA referee committee, will also be tried at Dandong Intermediate People's Court.
Former national team players Qi Hong, Shen Si, Li Ming and Jiang Jin, who are alleged to have accepted a total of 8 million yuan ($1.27 million) for fixing the result of a last-round game between Shanghai International and Tianjin Teda in 2003, will be in court at Shenyang on Wednesday.
The trials mark the end of the 2 1/2-year soccer-scandal crack down in China.
Yang Yimin, a former CFA vice-president, was sentenced to 10 years in February. Lu Jun, the nation's only referee to have officiated at a World Cup, was sentenced to 5 years, 6 months for accepting 810,000 yuan ($129,000) in bribes from 1999 to 2003.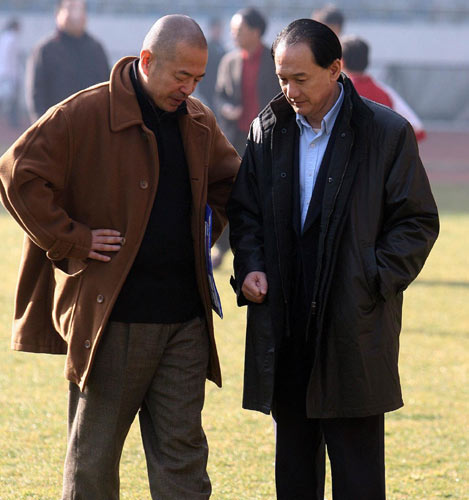 Former CFA chief Xie Yalong (R) and former Chinese national team manager Wei Shaohui in this Jan 5, 2008 file photo. [Photo/Xinhua]
More on China's soccer corruption trials 
Dec 23, 2011
'Patriotic' referee bribed by local soccer bodies
A soccer referee who ironically won the name as "patriotic whistle" for officiating in favor of Chinese teams, had been bribed by local soccer bodies, said a northeastern Chinese court. [Full story]
Dec 22, 2011
'Golden whistle' loses lustre on stand
Lu Jun, the country's best known Chinese soccer referee who once officiated World Cup and Olympic Games and was dubbed "golden whistle", stood trial in an intermediate court in Dandong, Northeast China's Liaoning province, facing charges of bribery-taking and match-fixing. [Full story]
3 more refs added to soccer corruption list
Three more referees were added to the Chinese soccer corruption list as their under-trial colleague Zhou Weixin confessed on Wednesday that they had taken bribes and fixed six matches. [Full story]
Dec 21, 2011
Former soccer chief on trial for bribery
Yang Yimin, who used to be a deputy head of both the Chinese Football Association (CFA) and the Chinese Football Administrative Center, stood trial in the Intermediate People's Court of Tieling in Liaoning province. [Full story]
Dec 20, 2011
Club manager on trial for soccer corruption
Wang Po, former general manager of Shaanxi Guoli club, stood trial on charges of bribe-taking and fraud in the Intermediate People's Court of Tieling in northeast China's Liaoning province. [Full story]
Dec 19, 2011
CFA pledges to fight against corruption
With the trials for Chinese soccer's corruption case opened on Monday, the country's governing body for the sport released a statement to reiterate their determination to fight against corruption. [Full story]
China starts soccer corruption trials
The long-awaited trials for corruption in Chinese soccer started on Monday morning in the northeastern Chinese city of Tieling with ex-CFA referee head Zhang Jianqiang first appearing on court. [Full story]