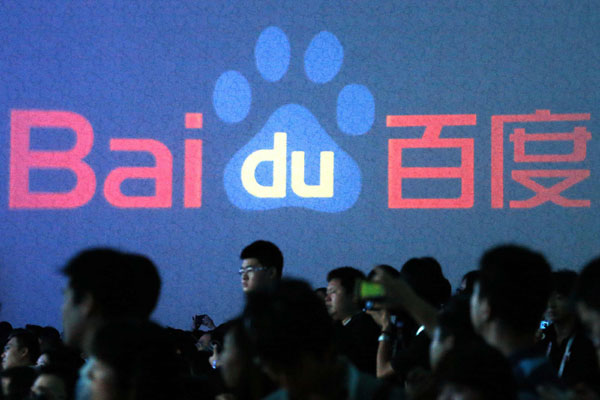 Reporters at a news conference of Baidu Inc in Beijing. Mobile business accounted for more than 20 percent of Baidu's total revenues in the fourth quarter of last year. Reuters
Nation's largest search engine ready to shift toward new platforms
Baidu Inc, China's largest online search company, is working to develop new products that can replace the search engine to become its most recognized gateway in the mobile Internet era, said Robin Li, the company's chief executive officer.
Li didn't elaborate on the new products but said that last year Baidu spent about 4 billion yuan on research and development. Most of it, he said, was used to develop products that will be as vital to the mobile era as the search engine has been in the personal computer-based one.
"If we had only wanted to maintain our leading position in search, we would have spent only about 20 percent of that amount on R&D," said the 45-old-year Li, who, with a net worth of $12.1 billion, is ranked the third-richest man on the Chinese mainland, according to the latest world's billionaires list from Forbes.
Li shared his vision about innovation and the Internet in an interview with China Central Television on the sidelines of the annual session of the National Committee of the Chinese People's Political Consultative Conference.
He said his Beijing-based company's main competitor is the changing Internet landscape in China, where more than 500 million out of the roughly 600 million Internet users in the country have access to the Internet through mobile phones.
"In the PC era, the search engine was the sole gateway for people to find information on the Internet. But now the channels to gain access are diverse. People have various applications on their smartphones to meet different kinds of demands," he said.