2.5 million new enterprises were set up last year, 1,700 approval items were cut
China's top economic planning agency, the National Development and Reform Commission, will launch an self-inflicted reform that will reduce its own power, part of the central government's campaign to give the market a greater role, Chairman Xu Shaoshi said on Wednesday.
Xu was speaking during a news conference held as the National People's Congress, the top legislature, met in Beijing.
He confirmed the restructuring plan has been finalized and approved and that it will "greatly reduce" the agency's review and approval powers.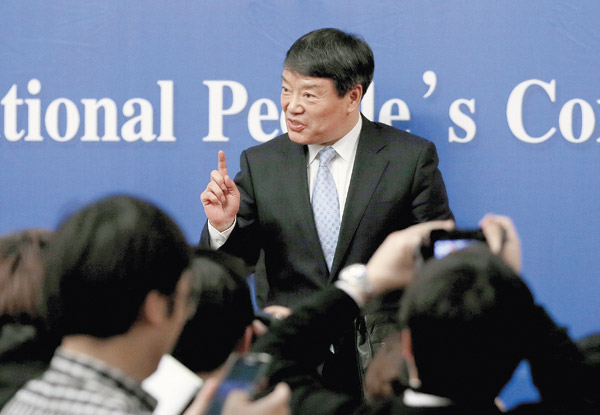 Xu Shaoshi, chairman of the National Development and Reform Commission, answers a question after a news conference in Beijing on Wednesday. 
"The development of the plan took quite a long time. There are two distinct features. First, a lot of the review and approval power (of the agency) has been cut.
"Second, the NDRC's macroeconomic and overall policy coordination authority has been strengthened. The agency in the future will improve its macroeconomic control function," Xu said in response to a question from a China Daily reporter.
In terms of the agency's administrative role, Xu said it will undertake a transition from "micro-level control to macro-level management", from an emphasis on project approval to regulation of operations and from project arrangement to institutional design.
Xu's comments signaled a significant change in the role of the agency, which has sweeping power over investment, prices and other issues in the world's second-biggest economy.
The change follows increasing criticism of the agency, which many regard as a legacy of the planned economy era.
Critics also claim it has focused exclusively on "development" while giving scant attention to "reform".
NDRC vice-chairman Liu Tienan was dismissed last year after he was accused of graft. It was revealed that he had abused his approval authority for personal benefit as well as that of his family and associates.
The reform is also part of the central government's ambitious plan to streamline the approval procedure and make the economy more responsive to market forces.