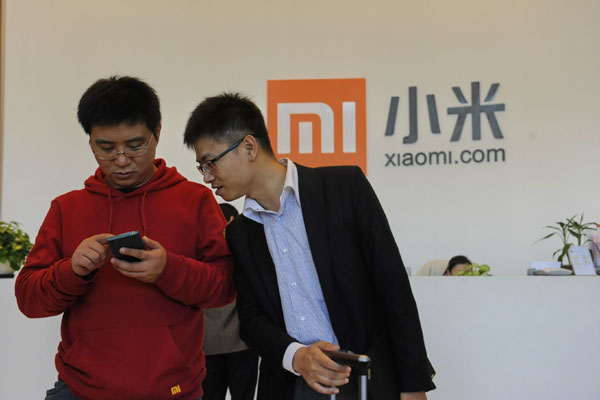 Xiaomi smartphones are popular in China. Xiaomi Corp set an aggressive target of 100 billion yuan in sales next year. China Daily 
Chinese smartphone maker Xiaomi Corp will not look for a public listing within five years, although it has registered a sharp sales increase since it was established some four years ago, a senior manager of the company said.
"Boosting production to meet the increasing market demand will be prioritized in the years ahead because our products have become more popular both in the domestic and overseas market," said Lei Jun, founder and chief executive officer of Xiaomi.
Smartphones produced by the company, which was established in 2010, are well integrated with the fast-developing mobile Internet industry, according to Lei.
"Robust development of the Internet in recent years has provided huge opportunities for traditional industries to upgrade their businesses. Like many other businesses, we are taking this opportunity to enter the smartphone market," Lei said.
Lei made the remarks on Thursday in Beijing on the sidelines of the annual session of the National People's Congress. "We will not go public within five years. Instead, we are putting more effort into making enough products," Lei said.
The mobile Internet company offers high-capability smartphones at a price below 2,000 yuan ($326), an aggressive pricing strategy that almost positions it at its factory cost. "I have told our suppliers and distributors to make more of an effort to ensure we have enough products to meet the increasing market demand in the years ahead," Lei said.
After realizing a 150 percent year-on-year sales increase to 31.6 billion yuan in 2013, the company has set an aggressive target of 100 billion yuan in sales next year.
"If we have an initial public offering, we may be distracted from delivering good products at low prices," Lei said.
The sales revenue of Xiaomi is expected to exceed 70 billion yuan in 2014, with at least 40 million smartphones being sold. "I am confident of realizing the goal next year. It will be a 'miracle', given that Xiaomi was only established a few years ago," Lei said.
He attributed the company's robust market performance to the fast development of the mobile Internet industry over the past few years.
"Nonetheless, I am not worried about market share because we are concentrating on our core business model-relying on mobile Internet to make profits," Lei said, adding that the emerging mobile Internet has been well integrated into many traditional industry sectors, presenting huge business opportunities.
In a proposal to the annual National People's Congress session, Lei said the government should expand free Wi-Fi facilities and 4G networks to facilitate wide use of mobile Internet.
"From users, operators and smartphone makers to online application developers, there has already been huge market potential brought about by mobile Internet," Lei said.