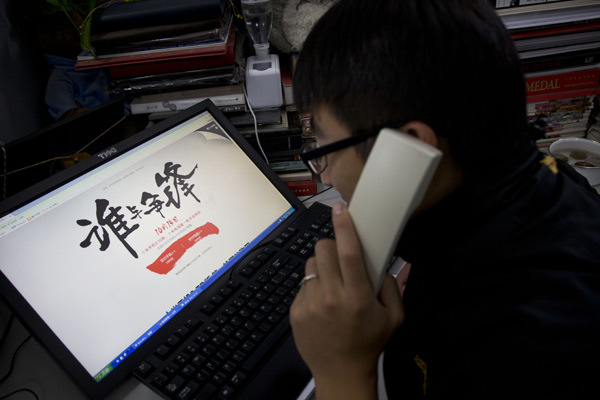 A man logs on to the
Xiaomi
official website to place an order on Oct 15, 2013. [Photo by Kuang Linhua / Asianewsphoto]
Xiaomi Corp has done it again - but this time even faster.
All 100,000 units of its latest flagship smartphone, the Mi-3, sold out in 86 seconds.
Beijing-based Xiaomi, which recently hired Google Inc's former vice-president Hugo Barra, announced its third-generation Android mobile device last month. The company said the Mi-3 is the world's first smartphone running on Nvidia's Tegra 4 quad-core chipset and has superb functionality.
But thousands of potential customers were left disappointed as they sat in front of their computer screens ready to place an order as soon as business opened on Tuesday.
The 16-gigabyte version of the Mi-3 sells for 1,999 yuan ($323.96). Xiaomi opened online sales of the handsets at 12 noon and announced all had been bought in less than a minute-and-a-half.
Zhou Dandan, a white-collar worker in Beijing, said she logged on to the Xiaomi website 10 minutes before sales started. It took her two to three minutes to successfully log on the official site because the system was slow, presumably because thousands were also trying to log on, keen to get their hands on the keenly priced device.
On the stroke of 12, she pressed the buy button but the website just showed a countdown image. At 12:08 pm, it informed her that her purchase attempt was unsuccessful.
"I phoned officials from Xiaomi, asking them whether I can manage to get a handset. But they said even Xiaomi staff have to purchase handsets online and strictly adhere to the 'first come, first serve' rule," Zhou said.
Although Xiaomi will offer a second round of sales next Tuesday, Zhou said she is pessimistic about getting a handset online and expects to wait a few months to buy one from a telecom carrier offline outlet - by which time an even newer model may be available.