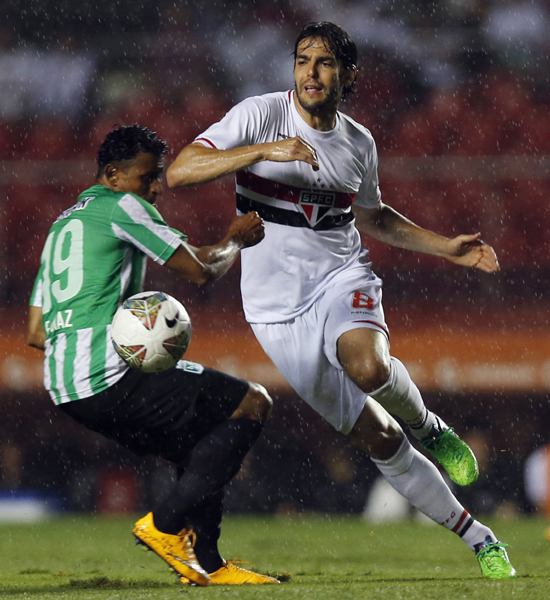 Farid Diaz (L) of Colombia's Atletico Nacional challenges Kaka of Brazil's Sao Paulo during their Copa Sudamericana semi-final soccer match in Sao Paulo, November 26, 2014. [Photo/Agencies]
RIO DE JANEIRO - Brazilian football has "stopped in time" and must heed lessons from Europe to recover its past glory, according to former AC Milan and Real Madrid midfielder Kaka.
In a television interview with Brazil's Globo on Sunday, Kaka cited poor domestic coaching as a reason for the country's lack of recent success at international level.
"Brazilian football has stopped. It has stopped in time and I think it is due to being content with being five-time World Cup winners and thinking we are really the best," the 32-year-old said.
"Managers could learn from each other. In Europe a Spanish team plays against English teams or Italian teams. Managers talk amongst themselves and they learn.
"We don't have the same interaction here with other South American countries. The thinking is: "I have won for so long by doing it this way and I am going to continue.' This mentality needs to change."
Kaka, a member of Brazil's 2002 World Cup-winning squad, was overlooked for the Selecao's 2014 campaign, which ended with a 7-1 semifinal defeat to Germany.
He was recalled for friendlies against Argentina and Japan in October, his first international call-up since March 2013.
The 2007 FIFA World Player of the Year will officially join new US Major League Soccer franchise Orlando City in January following a five-month loan spell with Sao Paulo.