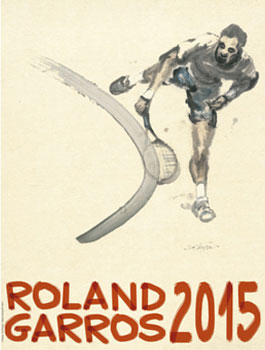 Roland-Garros 2015 poster. [Photo/Official Site of Roland-Garros]
PARIS - Grand Slam tennis
French Open
unveiled the Roland-Garros 2015 poster on Thursday, while its designer Du Zhenjun has become the first Chinese artist in 35 years to create a work of art for the tournament.
The 2015 French Open poster depicts a player serving to begin a point, the shot so crisp and powerful that the ball almost seems to rip right through the canvas.
Du, inspirited from both his Asian roots and contemporary Western art, explained that he chose to focus on the game itself while designing the poster.
"The speed and the movement of the ball are symbolized by a line which actually forms the main element of the poster," said the 53-year-old, trained in traditional jade engraving, traditional Chinese painting and calligraphy back in his native Shanghai.
"The painting also expresses something that is quite Asian, since the line traced through the center of the work is part of the Zen aesthetics," he added.
According to Du, the original of the poster was made on rice paper before being taped onto canvas.
"I used a typically Chinese painting technique with ink," he continues. "The poster is a mix of Asian and contemporary art, and I hope the public like it."
The artist, who moved to France 23 years ago, has adventured through multimedia, video, photography, collage and assemblage and installation.
He first came to the public eye in 2003 at the Paris Autumn Festival, where he had a significant exhibition at the Conciergerie entitled "Etre humain trop lourd" ("Too heavy a human ").
China's ambassador in France Zhai Jun congratulated on Du while attending the poster unveiling ceremony.
"First time in the French Open history, there comes a Chinese artist who designed the poster for the Grand Slam event," said Zhai. "Congratulations, Mr. Du. I believe his design with Chinese elements is able to share the glamour of the great tennis tournament."
"We are honored to have invited a well-known Chinese artist to design the 2015 poster," echoed French Tennis Federation (FFT) president Jean Gachassin. "It's a work of art coming from collision of two cultures."
Since 1980, the French Open has been inviting an artist through Galerie Lelong to create a poster each year, which coming out as a Rolland-Garros trademark tradition.