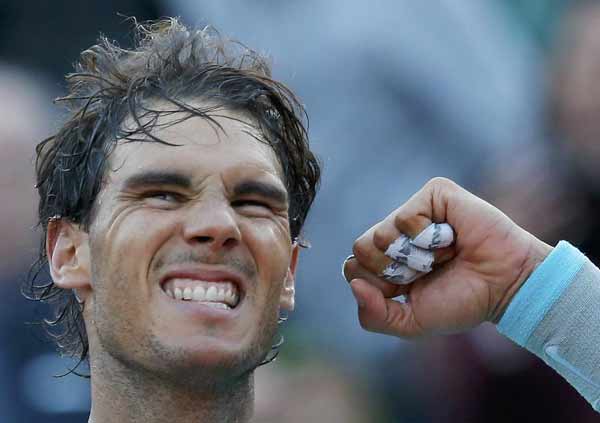 Rafael Nadal of Spain reacts after winning his men's quarterfinal match against his compatriot David Ferrer at the French Open tennis tournament at the Roland Garros stadium in Paris, June 4, 2014. [Photo/Agencies]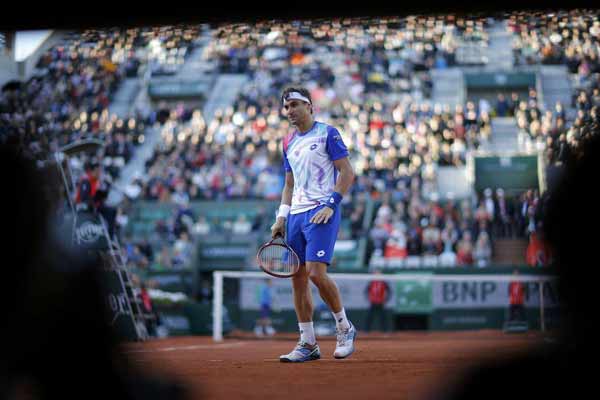 David Ferrer of Spain reacts during his men's quarterfinal match against his compatriot Rafael Nadal at the French Open tennis tournament at the Roland Garros stadium in Paris, June 4, 2014. [Photo/Agencies]
PARIS - Briefly, and only briefly, Rafael Nadal was in a difficult spot in the French Open quarterfinals.
For the first time in this year's tournament, the eight-time champion dropped a set.
And this had to be on Nadal's mind: His opponent, David Ferrer, could present real problems. Not only is Ferrer ranked No 5, and not only was he the runner-up at Roland Garros a year ago - to Nadal, of course - but he also beat Nadal on red clay the last time they played each other.
So how did Nadal handle this test? Perfectly. From late in the second set, he won 10 games in a row, and 13 of 14 the rest of the way, to come back and beat Ferrer 4-6, 6-4, 6-0, 6-1, setting up a semifinal Friday against Wimbledon champion Andy Murray.
"At the beginning," Nadal acknowledged, "David was playing with a higher intensity than me."
But once Nadal made a key adjustment - deciding to dispense with his surprisingly off-target backhand as much as possible and instead do whatever he could to use his topspin-heavy forehand - he took over.
After committing 28 unforced errors across the windy first two sets, Nadal had zero in the third, and only three in the last.
"When I was able to hit with my forehand," Nadal said, "I felt that I was in control."
Ferrer, for his part, said that in the latter stages, "I lost my concentration, my focus."
It was Nadal's 33rd consecutive win at the French Open and improved his record in the event to 64-1. His only loss at the tournament came to Robin Soderling in the fourth round in 2009.
The Spaniard, who turned 28 on Tuesday, is not used to facing much in the way of hardship at Roland Garros. So Nadal took what he was able to do against Ferrer as a good sign.
"At the end of the day, I am rather happy to have been able to turn the situation around," said Nadal, who wasn't thrilled to be put on Court Suzanne Lenglen, the second-largest arena, for the second time this year. "I managed to pull through, even though it was complicated."
The route Murray took during his 6-4, 6-1, 4-6, 1-6, 6-0 victory over No 23 Gael Monfils of France was far more circuitous, finishing right on the cusp of dusk after 9:30 pm. In front of a crowd loudly pulling for Monfils at Court Philippe Chatrier, Murray was terrific at the outset, mediocre in the middle, then closed on a high.
After a brief discussion with a tournament official over whether there was enough sun to play the fifth set - the Roland Garros courts have no artificial lights - Murray made the whole thing moot. He raced through that set in 24 minutes, winning 24 of 31 points, as Monfils appeared to stop trying.
"Everything happened very fast," Monfils said.
Murray will be playing in the French Open semifinals for the second time; he lost to Nadal in 2011. In all, Nadal owns a 14-5 edge in their head-to-head matches.
"I need to recover very well," Murray said, "and try to be especially calm for that one."
The other men's semifinal will be No 2 Novak Djokovic against No 18 Ernests Gulbis.