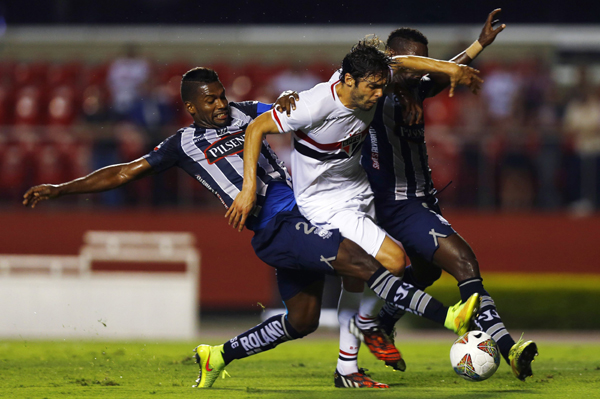 Kaka (C) of Brazil's Sao Paulo is tackled by Michael Balanta (L) and Camilo Ceballos of Ecuador's Emelec during their Copa Sudamericana soccer match in Sao Paulo, Oct 30, 2014. [Photo/Agencies]
RIO DE JANEIRO - Kaka has given his strongest indication yet that he could remain at Brazilian club Sao Paulo next year.
The 32-year-old former Real Madrid and AC Milan playmaker is due to join new Major League Soccer franchise Orlando City in January.
But less than a month after first hinting at a loan extension, Kaka gave Sao Paulo fans more reason to be optimistic about his chances of staying.
"This decision depends very little on me," Kaka was quoted telling Brazilian sports news service Gazeta Esportiva.
"It's for that reason that I have said that it's best to let things happen. It depends on whether we classify for the Copa Libertadores or not and a series of other factors. Then the clubs will talk and come to an agreement."
The 2015 edition of the Copa Libertadores, South America's elite club competition, will be played from February to August.
Sao Paulo can qualify for the tournament by finishing in the top four of Brazil's Serie A championship or by winning the Copa Sudamericana.
The Brazilian outfit are currently second in the Serie A standings with little more than a month remaining and have reached the quarterfinals of the Copa Sudamericana.
Kaka has been hit by injuries in recent seasons but says he has felt more at ease since returning to his original club in August.
"It has been really good for me to be back among friends and family," Kaka said.
"It has made me happy to see my relatives, my wife and my kids at the stadium more regularly - and to come back to the club where my career began."