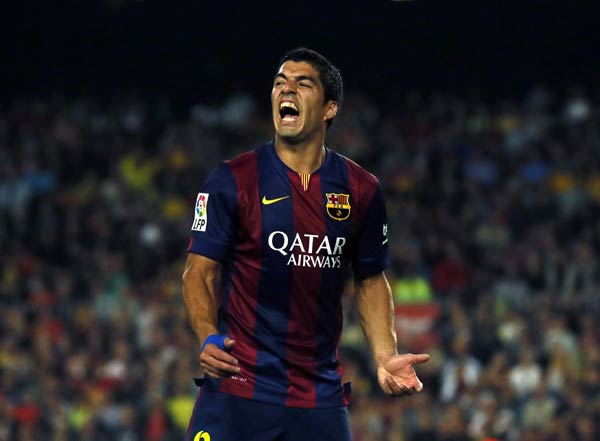 Barcelona's Luis Suarez reacts during their Spanish first division soccer match against Celta Vigo at Camp Nou stadium in Barcelona November 1, 2014. [Photo/Agencies]
BARCELONA - Luis Suarez's home debut with Barcelona was spoiled by Celta Vigo as Joaquin Larrivey scored in the second half to deal the hosts a 1-0 loss that let Real Madrid take the overnight lead of the Spanish league on Saturday.
Barcelona's second consecutive loss and first at home in the league since February came after Neymar and Lionel Messi each hit the woodwork twice.
"When the ball doesn't want to go it, it doesn't go in," Suarez said. "Our message to our fans is to keep faith in us. We are the first ones who want to turn this around."
Cristiano Ronaldo's Madrid and defending champion Atletico Madrid had no such problems with finishing their scoring chances as they both rose above the slumping Catalan club.
Ronaldo put Madrid at the top of the standings, two points ahead of Barcelona, by scoring for a 12 straight game before setting up a second goal in a commanding 4-0 win at Granada.
Atletico climbed into second place, one point behind Madrid, after Antoine Griezmann scored his first two goals in league play this season to fuel a 4-2 win over visitors Cordoba.
Sevilla is two points behind Madrid before visiting Athletic Bilbao on Sunday.
It was Celta's first away win against Barcelona since 1942, and came against its former coach Luis Enrique, who led the club to take over Barcelona after last season. Under his replacement, Eduardo Berizzo, sixth-place Celta has just one loss through 10 rounds.
"We had the mental strength to survive at the back and enough oxygen to score the goal," Berizzo said. "We have to be fair and acknowledge that if Barcelona had scored first, things would have turned out different. But we knew how to play our game."
Suarez returned to Camp Nou following his debut from a four-month biting ban last week at the Santiago Bernabeu.
But again he was limited to promising flashes, while Messi was frustrated in his attempt to get the elusive goal he needs to match the league's all-time scoring record.
Neymar curled the ball off the crossbar in the 11th minute and again hit the bar from close range in the 47th after a cross from Jordi Alba.
Messi was stopped by goalkeeper Sergio Alvarez in the 30th before defender Jonathan Castro slid to knock another of his shots off the goal frame.
Larrivey netted the 55th-minute winner by slotting home an audacious back-heeled pass from Manuel "Nolito" Agudo. It was the striker's seventh goal of the season, equaling Messi's mark.
Celta clung to the lead as Messi sent his free kick off the corner of the frame in the 80th before Alvarez made a one-handed save to deny Suarez in the 84th.