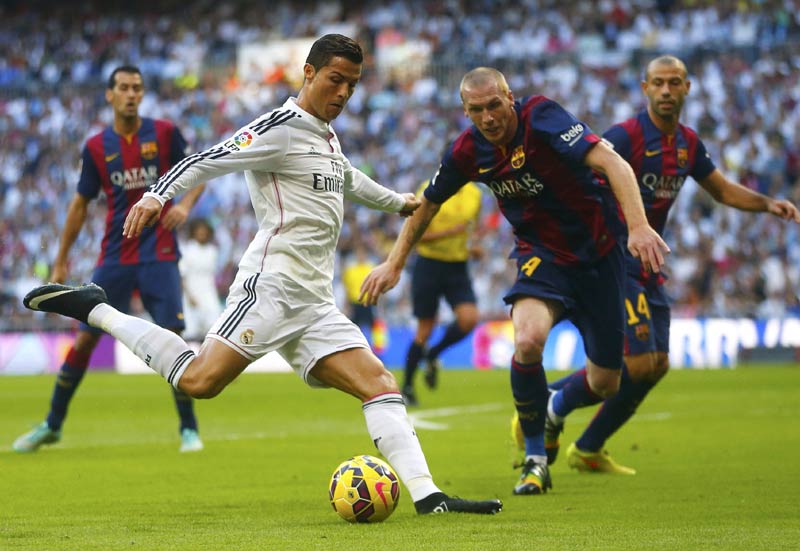 Real Madrid's Cristiano Ronaldo (L) is challenged by Barcelona's Jeremy Mathieu during their Spanish first division "Clasico" soccer match at the Santiago Bernabeu stadium in Madrid October 25, 2014. [Photo/Agencies]
MADRID - Cristiano Ronaldo scored to spark Real Madrid's 3-1 comeback win over Barcelona in a thrilling "clasico" match Saturday that handed the visitors their first loss of the Spanish league season.
The result spoiled a strong Barcelona debut by Luis Suarez, who played well in his first game since a four-month biting ban and set up Neymar to fire in a long strike for a fourth-minute lead at the Santiago Bernabeu Stadium.
But Ronaldo leveled from the penalty spot in the 35th to end Barcelona's record of eight clean sheets to start the season.
Pepe punished Barcelona's shaky set-piece defense by adding a header to take the lead in the 50th, and Karim Benzema left the visitors deflated by sealing the win in the 61st after having hit the woodwork twice in the first half.
"Obviously, after such a long time not playing you are relieved to be back," Suarez said. "But I take away a bittersweet feeling because of the result."
Madrid moved into second place one point behind Barcelona with a ninth straight win in all competitions. Carlo Ancelotti's team has outscored its rivals 38-6 in that stretch.
"The team was incredible in every aspect," Madrid defender Sergio Ramos said. "Even though we fell behind early we always kept clear that we wanted to dominate the match and not relinquish possession to them."
Barcelona's Lionel Messi entered the game one goal shy of equaling Telmo Zarra's Spanish league scoring record of 251 goals. His best chance to equal the mark came early after another great pass by Suarez, but Iker Casillas did well to save his close-range effort. Other than that, it was an uncharacteristically quiet night for the four-time Ballon d' Or winner.
Ronaldo won the duel of the star players, extending his scoring run to 11 straight games and increasing his league-leading tally to 16 goals through nine rounds. It was also his 21st goal for Madrid in all competitions this season.
Besides seeing its league lead reduced by its fierce rival, Barcelona also lost Andres Iniesta to a right-leg injury in the second half.
Suarez made Barcelona's starting lineup hours after completing his four-month ban for biting Italy's Giorgio Chiellini in June at the World Cup. Surprisingly, he was the visitors' most incisive player in his 69 minutes despite only having played one of four friendlies with his new teammates since then.
Billed as one of the most highly anticipated "clasicos" in recent years, the first half did not disappoint.
Suarez showed no signs of being unaccustomed to playing with Barcelona when he took the ball from Xavi Hernandez and spotted Neymar on the left side of the attack.
Neymar controlled Suarez's well-weighted cross, cut back across the top of the box to round Dani Carvajal and Pepe and open an angle before he drilled a right-footed strike past Casillas and into the lower corner of the net.
"We didn't lose our heads after conceding," Ancelotti said. "We stuck to our plan and I like what I saw because we maintained a high rhythm of play after (Wednesday's win at) Liverpool."
Benzema had three quick chances to level for the hosts with a toed shot that trickled by the post in the sixth before the striker hit the goalframe twice with a header and attempt to blast in his rebound in the 11th.