BERLIN - Real Madrid dethroned titleholders Bayern Munich 4-0 to smooth the way for the final at the Champions League semifinals on Tuesday.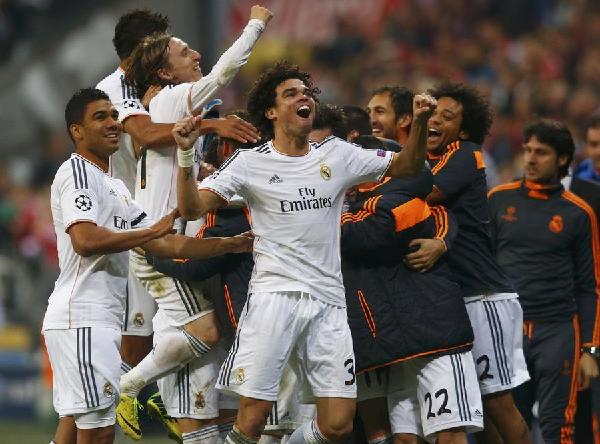 Real Madrid's Cristiano Ronaldo (hidden) celebrates with with team mates after scoring 4th goal against Bayern Munich during their Champions League semi-final second leg soccer match at the Arena stadium in Munich, April 29, 2014.  [Photo/Agencies]
Real Madrid taught Bayern Munich a lesson as the Spaniards booked their ticket for the final in Lisbon with a 5-0 triumph on aggregate over the German title defenders.
Carlo Ancelotti's men staged a clinical chance conversion and killed the game with three first half goals. Sergio Ramos sealed his brace within 20 minutes to destroy all hopes by the Bavarians. Besides that Christian Ronaldo set a new record with his goals No. 15 and 16.
Bayern Munich took over from the kickoff to press Real into defence, as they wanted to neutralize their 1-0 first leg loss with an early goal.
Despite Bayern's ball possession they weren't able to threat the visitors. However, with 16 minutes into the game Real Madrid broke the deadlock against the run of the match, with their first chance. Lukas Modric's corner found Ramos who headed past Manuel Neuer from inside the box.
Bayern needed three goals to progress but things changed from bad to worse just four minutes later as Ramos nodded home Angel Di Maria's free kick for the 2-0 lead. The host tried to respond when they got their first shot on target through Franck Ribery from 17 meters.
The hosts pressed frenetically but allowed Real Madrid to triple the lead following a fast break through Ronaldo at the 35th minute. The Portuguese international slotted home a square pass by Gareth Bale, scoring his 15th goal of the Champions League campaign, which is a new record.
Bayern never looked in the position to turn this tides especially because they lacked in ideas and dangerousness meanwhile Real Madrid let the ball do the work. Yet, they were able to round off their 4-0 victory with a free kick goal by Ronaldo, who fooled the defence with a low shot below the wall into the bottom left corner in the dying minutes of the game.
With the result Real ensures their first Champions League final since 2002 when they lifted their ninth title. "Los Merengues" will encounter either Atletico Madrid or Chelsea in the final at Lisbon on May 24.
"We suffered a heavy defeat. That is a debacle for us," Bayern CEO Karl Heinz Rummenigge said. "Real deservedly progressed into the final. They were better today. We made too many errors," Bayern sporting director Matthias Sammer added.