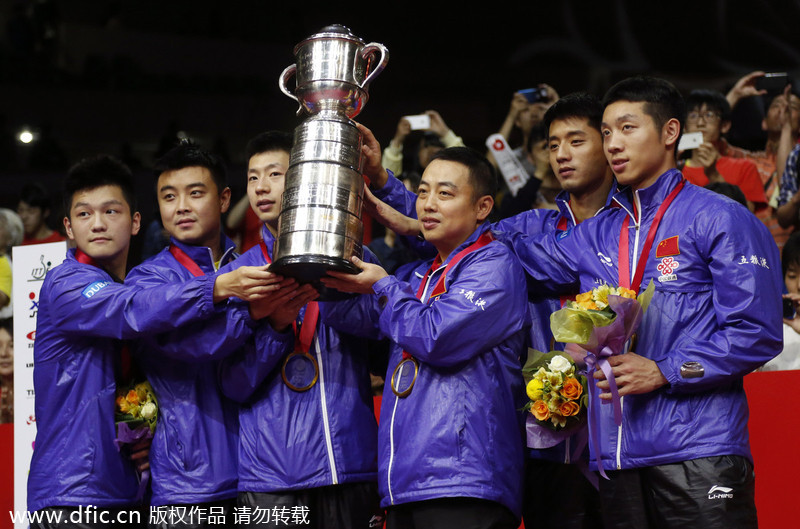 Chinese men's table tennis team members lift the trophy after winning the World Team Table Tennis Championships in Tokyo, Monday, May 5, 2014. [Photo/icpress.cn]
TOKYO -- Chinese men's team beat Germany 3-1 to defend the Swaythling Cup at the World Table Tennis Championships in Tokyo on Monday.
Ma Long beat Timo Boll 3-1 to open the winning way for China. Four years ago in Moscow, Ma led Boll 2-0 in the final but failed to win but this time he didn't waste the chance and won the match 11-6, 11-9 and 11-9.
But Germany quickly tied the score as Dimitrij Ovtcharov swept Zhang Jike 3-0. Zhang made too many fouls and couldn't manage to turn the table over and lost China's first match of the tournament at 11-13, 8-11 and 6-11.
Fortunately Xu Xin put China in the leading position soon as he quickly beat Germany's rookie Patrick Franziska in three games. Xu never gave any chance to Franziska and only allowed 15 points for the young German. Xu won the match 11-5, 11-2 and 11-8.
Ma Long sealed the victory for the defending champion by beating Ovtcharov 3-0. After struggling to beat Ovtcharov 12-10 in the first game, Ma had a strong performance in the second and third game as Ovtcharov only scored seven points in two games.
It is the nineteenth time for China to win the Swaythling Cup and China also made history to win the title for the consecutive seventh time, which started since 2001 in Osaka, Japan.
"The defeat is good for Zhang Jike," said Liu Guoliang, head coach of the Chinese team. "Though he won the world champion in Paris last year, Zhang didn't make much improvement after the London Olympics. The loss shows that he still got room to improve. If he can learn from the defeat, I'm sure that he will push himself to a new level. I have faith in him and this defeat won't effect it."
"Though its my third time to win the world championship, it's the first time for me to play in the final," said Xu Xin. "I've prepared for this moment for six years. I'm ready for it. That's why I totally controlled the match."
"I'm happy to beat Zhang Jike, the Olympic champion and the world champion, especially are 3-0. It might be my best match of life," said Ovtcharov, who earned Germany's only point. "But unfortunately, this is a team match. Germany lost."
| | | |
| --- | --- | --- |
| | | |
| Zhang Jike retains men's singles title at table tennis worlds | | |