Barcelona manager says Clasico not crucial
Messi moves to within a goal of La Liga scoring record in 3-0 victory over Eibar
Barcelona coach Luis Enrique says his side's Clasico showdown with Real Madrid next weekend is too early to play a decisive role in the La Liga title race.
The Catalans go into the game at Santiago Bernabeu with a four-point lead over Madrid after blanking Eibar 3-0 on Saturday thanks to goals from Xavi, Neymar and Lionel Messi.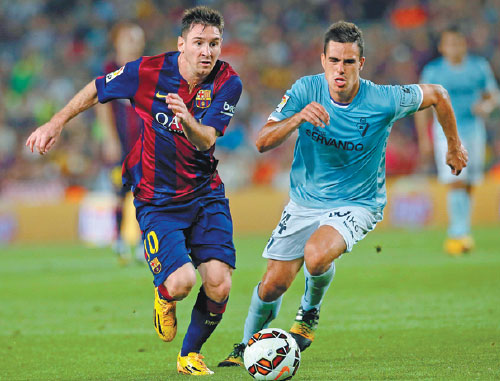 Barcelona's Lionel Messi (left) vies the ball against Eibar's Dani Garcia during their La Liga match at Camp Nou in Barcelona on Saturday. Barca won 3-0. Albert Gea / Reuters
However, Madrid is also full of confidence having struck 32 times in winning its past seven games in all competitions, including a 5-0 thrashing of Levante on Saturday.
"The ideal scenario would be that Madrid had no points and we had the points we have," said Enrique.
"There is such a long way to go, it will not be decisive. We will approach the game as Barcelona always does going to the Bernabeu, trying to be better than our opponent and get a positive result."
However, Enrique warned his players about getting ahead of themselves with a vital Champions League game at home to Ajax on Tuesday.
Barca's only defeat so far this season came in their most recent European outing away to Paris Saint-Germain, leaving the four-time European champion in need of a win to enhance its chances of winning the group.
"It is the same against Ajax," said Enrique. "The same idea and mentality. What concerns me now is that they recover, rest and go into the game on Tuesday in the best condition possible."
Messi is on course to make history as he moved to within one goal of Telmo Zarra's 59-year-old record as the all-time top scorer in La Liga history.
And despite missing a number of other opportunities to match, or even surpass Zarra on the evening, Enrique was still full of praise for the contribution made by the four-time World Player of the Year.
"Sometimes I look towards the coach in the other dugout and think how lucky I am to have Messi," he said. "It is not just what he generates; it gives a huge lift to his teammates to have him in the condition he is in and to add him to the other players is a wonderful thing. It is great to be able to work with these players."
Enrique will have another world-class talent to call on when Luis Suarez's four-month ban for biting at the World Cup comes to an end on Saturday.
The Uruguayan is officially the most expensive player in Barca's history having sealed a reported $125 million move from Liverpool in July.
However, Barca sporting director Andoni Zubizareta insisted no pressure will be put on Enrique to include Suarez in the lineup against Madrid.
"Hopefully we will all arrive healthy to the game and it will be the coach who decides which players ought to play," said Zubizareta.