It has been one of the best World Cups ever, packed with goals, drama and quality.
Yet for all the entertainment, not everyone can be a star.
Spain, England and Italy are among the big hitters dumped out of the tournament early, and naturally there has been finger pointing and recriminations.
Some players have returned from Brazil with lower reputations than when they arrived.
Steven Gerrard is the Liverpool and England captain, Diego Costa has just cost Chelsea 44 million euro and Iker Casillas has 156 caps to his name.
Yet they are among the leading stars who have failed to produce in the World Cup.
Diego Costa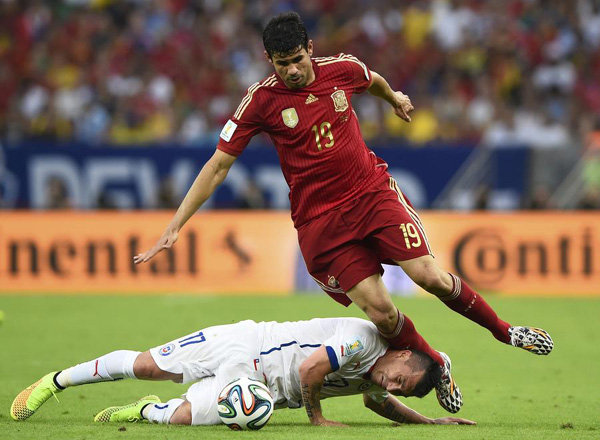 Chile's Gary Medel (bottom) is fouled by Spain's Diego Costa during their 2014 World Cup Group B soccer match at the Maracana stadium in Rio de Janeiro, June 18, 2014. [Photo/Agencies]
Diego Costa dominated the build-up to Spain's World Cup defense, from the moment he chose to play for the Europeans rather than his native Brazil to his selection for the opening game against the Netherlands amid fitness concerns.
In fact, he probably shouldn't have gone to the World Cup because of the hamstring problem that affected him toward the end of his 36-goal season for Atletico Madrid. His introduction into the Spain squad coincided with the downfall of a team that won its previous three tournaments.
Costa never appeared to develop an understanding with his teammates and was virtually anonymous in a clumsy competitive debut as Spain was smashed 5-1 by the Netherlands. In La Roja's second group game, the new Chelsea man missed a golden opportunity early in the second half to get his side back in the game.
Steven Gerrard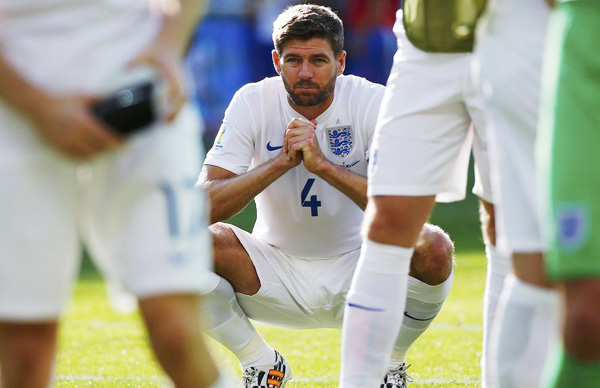 England's Steven Gerrard squats on the pitch after their 2014 World Cup Group D soccer match against Costa Rica at the Mineirao stadium in Belo Horizonte, June 24, 2014. [Photo/Agencies]
Steven Gerrard has a habit of digging his side out of trouble when it needs him. He also has a habit of making costly mistakes.
The latter was the case during a disastrous World Cup campaign that is likely to prompt the Liverpool midfielder's retirement from international football.
Still reeling from the slip against Chelsea in May that may have cost his club the Premier League title, Gerrard's mistakes against Uruguay ensured that England's World Cup ended in the group stage for the first time since 1958.
After a poor display in the defeat to Italy in which he was outpassed and overrun, Gerrard's made errors in the build-up to both Uruguay goals in the 2-1 defeat in Sao Paulo.
He blundered on the halfway line with a weak challenge in the lead up to Luis Suarez's opener and then headed the ball straight to Suarez late on to allow his Liverpool teammate to slam home the winner.
Iker Casillas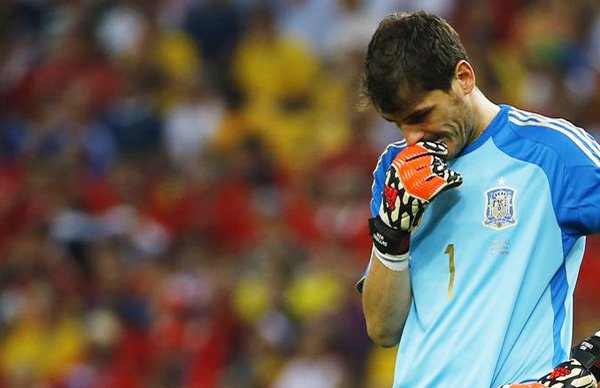 Spain's goalkeeper Iker Casillas reacts during the team's 2014 World Cup Group B soccer match against Chile at the Maracana stadium in Rio de Janeiro, June 18, 2014. [Photo/Agencies]
Vicente Del Bosque's sentimentality damaged Spain when he chose to stick with Casillas as his captain and goalkeeper despite the fact he played second fiddle to Diego Lopez in La Liga.
Four years after lifting the World Cup in South Africa, Casillas was the embodiment of a shambolic tournament for the reigning champions.
Fresh from almost costing Real Madrid the Champions League final, he produced a horrible performance in the humiliating 5-1 defeat to the Netherlands. He was caught under the ball for Stefan de Vrij to put Holland 3-1 ahead before his heavy touch gifted Robin van Persie the fourth.
Casillas remains a World Cup-winning captain and a legend with 156 caps, but this tournament should signal the end of his international career.
Gonzalo Higuain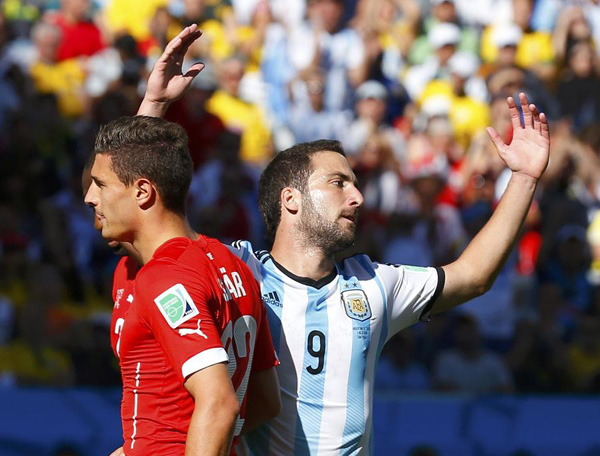 Argentina's Gonzalo Higuain reacts next to Switzerland's Fabian Schaer (L) after his header was saved by Switzerland's goalkeeper Diego Benaglio (not pictured) during their 2014 World Cup round of 16 game at the Corinthians arena in Sao Paulo July 1, 2014. [Photo/Agencies]
Much was made before the start of the World Cup of Argentina's deadly front three of Lionel Messi, Sergio Aguero and Gonzalo Higuain.
While Messi has been doing his part, it certainly hasn't panned out as expected for Higuain. The Napoli man came into the tournament on the back of an ankle problem and he has played as though he has six other injuries at the same time.
Higuain's plodding movement and lack of sharpness has been a theme of Argentina's matches, with the 26-year-old failing to get in dangerous positions and badly missing the few chances that have fallen his way. It says a lot that, when drawing 0-0 with Iran and struggling to break their opponents down, Higuain was substituted in the 76th minute.
He has been more of a hindrance than a help at times, and the net effect is that, with Aguero out through injury, Messi must be feeling he has to do it all alone.
Mario Balotelli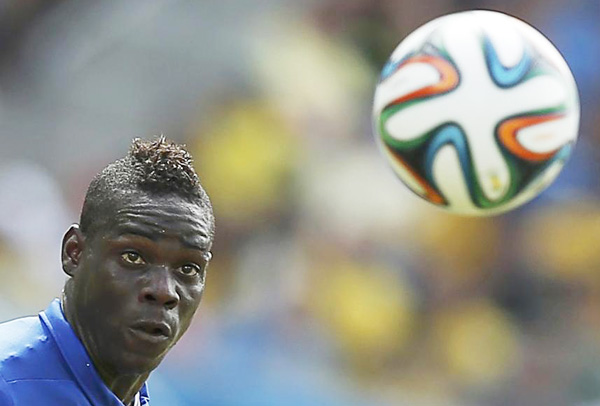 Italy's Mario Balotelli controls the ball during their 2014 World Cup Group D soccer match against Uruguay at the Dunas arena in Natal June 24, 2014. [Photo/Agencies]
It started well enough for Balotelli when he headed home the winner in Italy's 2-1 victory over England in its opener in Manaus.
Yet that was the last goal the Azzurri scored at the World Cup, and Balotelli ended the tournament watching helplessly from the bench as they were eliminated following a 1-0 defeat to Uruguay.
Balotelli had been substituted at halftime in that game, having failed to do anything of note in the first 45 minutes other than pick up a booking to run the risk of a red card.
The Milan striker had been equally out of sorts in the 1-0 defeat to Costa Rica. Cesare Prandelli resigned as Italy coach after the tournament, and he may well reflect that he should have picked Ciro Immobile over a player with an attitude problem who offered virtually nothing.