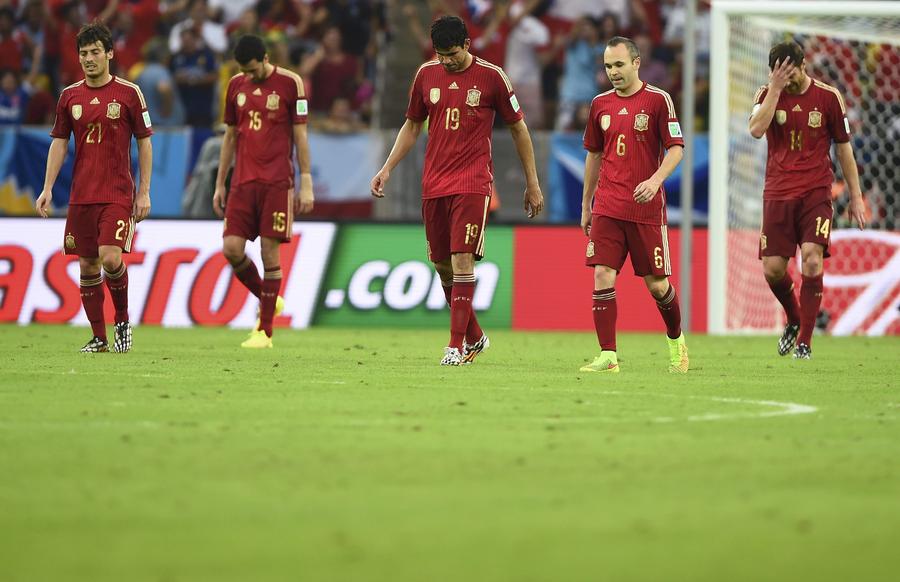 (L-R) Spain's David Silva, Sergio Busquets, Diego Costa, Andres Iniesta and Xabi Alonso react after Chile's Charles Aranguiz scored his team's second goal during the 2014 World Cup Group B soccer match at the Maracana stadium in Rio de Janeiro June 18, 2014. [Photo/Agencies]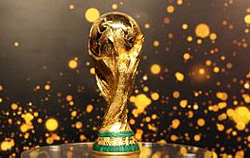 Defending champions who suffered early exit at group stage:

Italy: 1950, 2010

Brzail: 1966

France: 2002

Spain: 2014
RIO DE JANEIRO - Holders Spain, who first showed signs of vulnerability at the Maracana a year ago, were eliminated from the World Cup on Wednesday when a 2-0 Group B defeat by Chile at the same stadium ended one of the greatest dynasties of the modern game.
On the day when Spain's King Juan Carlos signed his abdication papers, the country's footballers were forced off their throne as first-half goals from Eduardo Vargas and Charles Aranguiz earned Chile a stunning victory in front of tens of thousands of their ecstatic fans in a 74,000 crowd.
The South Americans reached the last 16 along with the Netherlands and confirmed the pre-World Cup talk that they could advance deep into the tournament with a brilliantly disciplined and inspired display against a tired-looking Spanish side who go out along with Australia.
The Dutch, who beat Spain 5-1 last Friday, and Chile each have six points and they meet in Sao Paulo on Monday. Spain face Australia in Curitiba bidding to avoid finishing bottom.
"We cannot complain we did not deserve to go out, they were better than us," Spain coach Vicente del Bosque told Spanish TV.
"The team showed character, we pressed forward but we had little luck in front of goal.
"We were certainly inferior to our rivals here at the finals. It is not the moment to think about the future. Little by little we will make the necessary assessments."
Chile midfielder Arturo Vidal, who had a fine match, was unsurprisingly in upbeat mood.
"Spain came with a lot of desperation after their first match, but we showed we are at a very good level," he said.
"We didn't come for a holiday, we came to fight for the championship."
Spain became the third champions in the last four World Cups to be eliminated at the first hurdle and their departure will almost certainly end the long international careers of their greats Xavi, goalkeeper Iker Casillas and Xabi Alonso.
Xavi, for so long the fulcrum of the side that won the 2008 and 2012 European Championships and their first World Cup in South Africa four years ago, did not even make the starting lineup after the Dutch debacle.