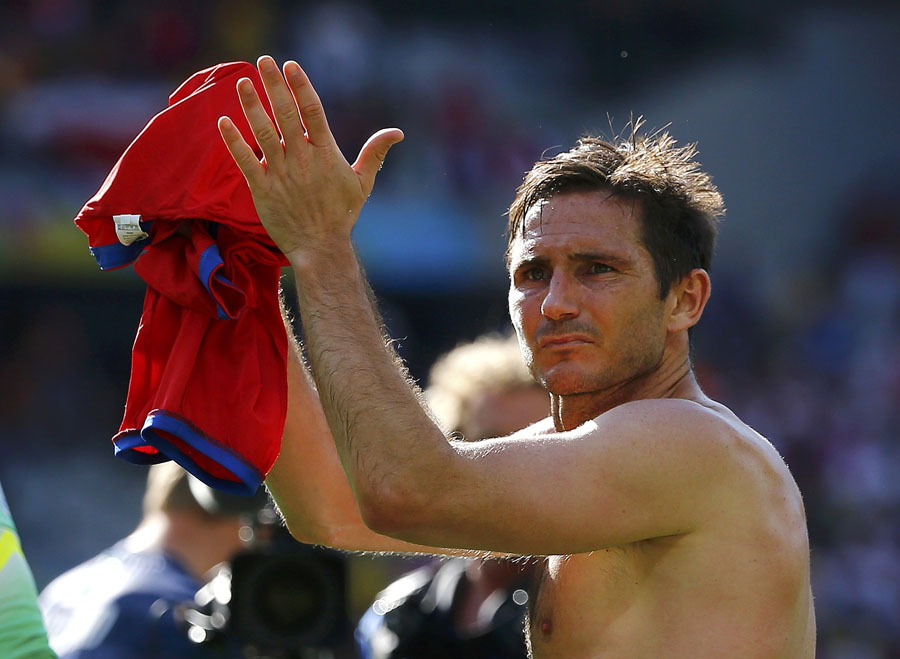 England's Frank Lampard applauds at the end of their 2014 World Cup Group D soccer match against Costa Rica at the Mineirao stadium in Belo Horizonte June 24, 2014. [Photo/Agencies]
BELO HORIZONTE, Brazil - After one final frustrating game in Brazil, England's players can finally fly home. The Motherland of Football's most humiliating experience at a World Cup is over, and the grieving process - as coach Roy Hodgson sees it - and the inquest can continue in England.
The only consolation, if there can be any for this chastened squad of millionaires, is that they are leaving in exalted European company. At least Italy and Spain managed to win a game in Brazil, though. After losses to Italy and Uruguay, England collected just a point from Tuesday's 0-0 draw against surprise Group D winner Costa Rica.
Never before has England played such a meaningless match at a World Cup, with elimination confirmed just six days after England's campaign started in Brazil. Even Hodgson conceded before kickoff that the game "served no purpose.''
With Costa Rica's remarkable progress already secured, this was not a thriller in the Mineirao. With one more lackluster display lacking dynamism, England showed why it is leaving the World Cup party early.
"It was a difficult game to approach,'' said Frank Lampard, who captained England in what could be his 106th and final appearance. "Everyone knows how tough it's been.''
Not since 1958 had the English managed to leave the World Cup so early, although they at least were undefeated with three draws in Sweden.
This time, they signed out of the tournament in Belo Horizonte, just like they did in 1950 when the United States won the so-called ``Miracle on Grass.'' However humbling that experience seemed at the time for the country that popularized if not invented football, England has never actually established itself as a force on the world stage.
England's only World Cup triumph came on home soil in 1966 and the furthest it has progressed since then was reaching the semifinals in Italy in 1990. Twenty four years later, England failed to beat two teams, Costa Rica and Uruguay, from countries with less than a tenth of its 50 million-plus population and domestic competitions incomparable with the wealthy Premier League.
The tens of millions of pounds (dollars) the Football Association has spent on a stadium, a training center the national team rarely uses, and a World Cup delegation exceeding 70, has counted for little on the pitch. Hodgson doesn't know why, apart from claiming Costa Rica's coach has more access to his players.
"You can analyze results and come up with answers. Lots of answers,'' Hodgson said. "But all I can say is we haven't been that fortunate here. I don't think the performances have seen us outplayed or outclassed by any of the opponents we've played, but we haven't got the results.
"Results come down to two things: do you make mistakes in the penalty area and give goals away, or do you make mistakes in the opponents' penalty area where you should score goals? The FA are working very hard on how we'd like our teams to play, and going forward we'll benefit from that.''
Unlike resigning Italy coach Cesare Prandelli, Hodgson is going nowhere, determined to see out his four-year contract and lead England into the 2016 European Championship.
And in this final game, although it seemed like a pre-season friendly, several young players did gain valuable World Cup experience as Hodgson bloods them for the future. It might have been a more positive conclusion to this trip had first-choice striker Daniel Sturridge been more clinical up front with his openings.
Apart from the first 10 or 12 minutes of the game I thought we dominated it totally,'' Hodgson said. "Unfortunately we didn't take our goal chances today.''