Uruguay striker Luis Suarez said his two-goal match-winning performance against England in Thursday's 2-1 win in World Cup Group D was the perfect response to his critics.
"I have been thinking about this, it was something I dreamed about happening quite a lot," he said.
"I'm enjoying this moment, because of all I suffered, the criticism I received. So there you go."
Suarez scored with a clever first-half header and struck the winner five minutes from time with a trademark powerful shot to almost certainly eliminate England from the tournament.
"Before the game too many people in England laughed about my attitude over the last few years," he said. "This is a very good time for me. I want to see what they think now.
"It was one of the best games I've played. It's an amazing moment for me. Maybe a few days ago I thought this wouldn't be possible."
The controversial Liverpool striker had knee surgery last month and missed the opening game against Costa Rica, so he was also keen to pay tribute to his doctor Walter Ferreira.
"If it wasn't for him I wouldn't be here," Suarez said.

Recalling his winning goal, Suarez, who has served lengthy bans in England for racially abusing and biting opponents, said he wanted to dedicate it to those people who had stuck with him.
"When I saw the ball I closed my eyes and kicked it for all the things I went through, for the people that supported me," he said, his voice cracking. "And it went in.
"Nobody could have imagined a match like this," the 27-year-old said.
Uruguay joined Italy and Costa Rica, who play on Friday, on three points at the top of the group.
Meanwhile, England boss Roy Hodgson said he had no intention of resigning despite steering his team to the brink of its worst World Cup performance in 56 years - insisting the future was bright.
But the "devastated" coach conceded his employers, the Football Association, could rethink his position following his team's devastating 2-1 loss to Uruguay in Sao Paulo.
"I'm bitterly disappointed, of course, but I don't feel I need to resign, no," 66-year-old Hodgson told British broadcaster ITV. "On the other hand, if the FA think I'm not the right man to do the job ..."
Hodgson said Suarez's late winner, his second goal of the night, was an "unbelievable blow" after England worked its way back into the game with a Wayne Rooney equalizer.
"We believed we could do enough to get a result in this game. Having worked so hard to get back to 1-1, I believed we would go on to win the game or at least draw, so to concede the second goal is an unbelievable blow. I don't really know what to say at this time.
"We are more than disappointed, we're devastated."
Hodgson said he was also taken aback by the manner of Uruguay's winner, which came when a speculative ball from goalkeeper Fernando Muslera skidded off Steven Gerrard's head and into the path of Suarez.
"It was a goal we don't expect to concede. Long goal kicks with the type of players we have in the team, we deal with them," Hodgson said.
England also lost its Group D opener 2-1 to Italy, leaving it relying on the Azzurri beating Costa Rica on Friday to keep its hopes alive in the competition.
A stony-faced Hodgson admitted England's chances of staying in the World Cup were "unbelievably slim" as it faces its first exit at the group stage in a World Cup since 1958.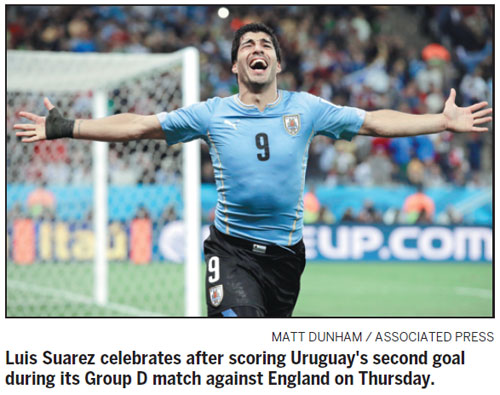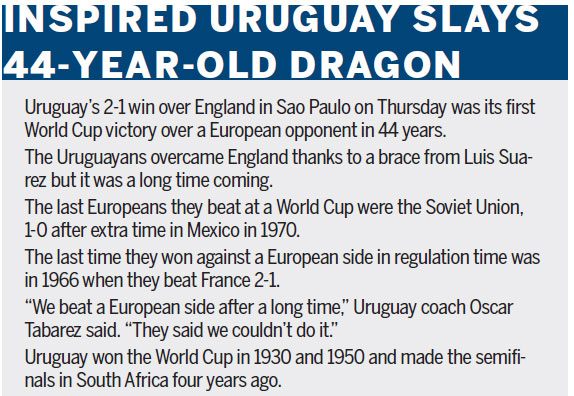 (China Daily 06/21/2014 page16)