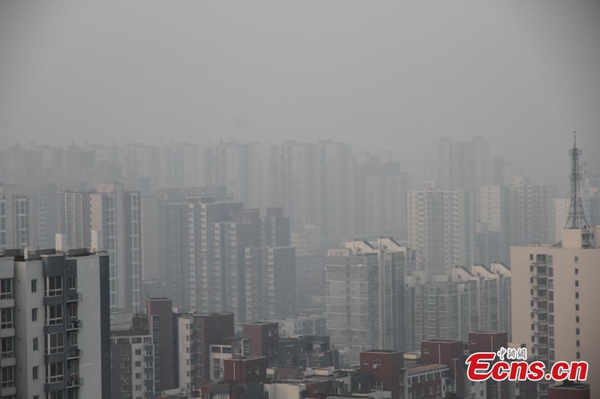 Buildings are seen amid the heavy smog in Beijing, capital of China on Saturday, January 3, 2015. According to statistics from China's Ministry of Environmental Protection, the air quality index was 186, and the level of PM2.5 was 142 as of 9 am, signaling "moderate pollution." [Photo/China News Service]
Beijing had 45 heavy pollution days last year, according to the report on Beijing's air quality released by Beijing environmental protection bureau.
Statistics indicate that the annual concentration of the city's main atmospheric pollutant -- PM2.5 -- dropped 4 percent on a year-on-year basis, just fell short of the year's target of 5 percent.
Zhang Dawei, the director of Beijing Environmental Monitoring Center, underscored that PM2.5 particles cased heavy pollution for 45 days in 2014, contributing to one third of the pollutant concentration for the whole year.
Zhang pointed out that the heavy pollution nearly took place in every month except June, August and September in 2014.
The report notes that, during the heavy pollution days in 2014, over half of the pollutants came from neighboring regions.