Iconic multimillionaire US sports stars LeBron James and Tiger Woods celebrated birthdays on Tuesday with NBA playmaker James and 14-time major golf champion Woods seeking future success despite impressive achievements.
Woods, who turned 39, is chasing the all-time record of 18 majors won by Jack Nicklaus while James, who turned 30, has won two NBA titles with Miami but came home this year trying to bring Cleveland a major pro sports championship, something not seen in half a century.
Four-time NBA Most Valuable Player James passed out of his 20-something days with 23,901 career points, the most of any player at that point in his career in NBA history. He celebrated his 30th birthday, being held out for the Cavs' 109-101 loss to the Atlanta Hawks in Atlanta on Tuesday, with a sore left knee.
"King" James, who ranks 23rd on the NBA all-time points list and seventh among active players, said turning 30 feels "no different" and played down his point-production feat.
"I've been very blessed in my career," James said. "I've been around a great group of guys that has enabled me to do the things I've been able to do on the floor.
"It's very humbling. It's a reward any time you see your name up there with the greats."
James, averaging 25.2 points a game this season for the Cavaliers, grew up in nearby Akron as a high school superstar whose prep games were nationally televised.
After being taken by Cleveland with the top pick in the 2003 NBA Draft, he spent seven seasons with the Cavaliers, even powering them to the NBA Finals in 2007, where they were swept by San Antonio.
In 2010, James departed for Miami and led the Heat to the NBA Finals four times in his four seasons there, although they only won the crown in 2012 and 2013, falling to San Antonio in last June's championship series.
The next month, James announced he was coming home and expectations skyrocketed for the Cavaliers, who at 18-12 are still trying to come together as a team and dealing with injury setbacks.
Woods, who has not won a major title since the 2008 US Open, would have to become the first golfer to win more than three major titles past his 39th birthday in order to match Nicklaus.
Woods, who battled a back injury most of 2014, played his first event since the PGA Championship last August in early December at his Hero World Challenge 18-man tournament, happy he was healthy enough to finish 72 holes but still needing work on his short game and consistency with his drives to approach the form that made him a dominant force at his prime.
A tweet by his charity foundation showed a photo of Woods as a child blowing out candles on a birthday cake with the caption "Wishing a very happy birthday to the boss, @TigerWoods!"
Woods has yet to reveal his playing schedule for 2015 but his focus figures to be upon preparing his game to peak at the Masters in April, where Rory McIlroy will try to complete a career grand slam with a third consecutive major triumph.
"I'm mostly excited about being healthy again," Woods said in a blog posting on his website last week. "I've struggled for the past year-and-half with my back and it showed in my results.
"For anybody who has ever had a bad back with nerve damage, it's downright debilitating. To not feel that is finally just incredible relief."
James finished third in 2014's Forbes list of the world's top earning athletes with $72.3 million and tops NBA endorsement money-spinners.
Woods, who topped the Forbes list from 2001-2011, was sixth at $61.2 million.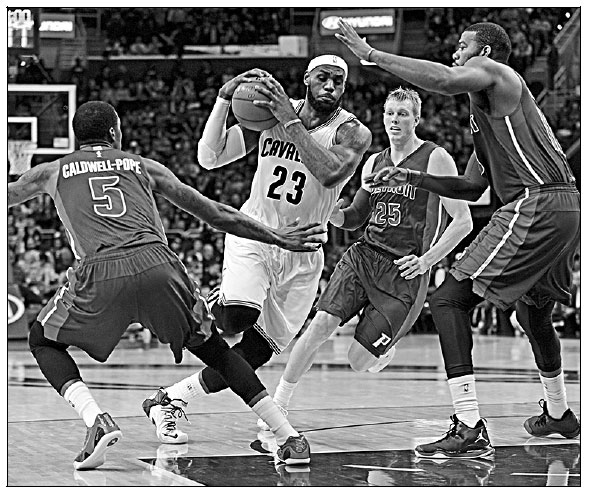 Cleveland Cavaliers forward LeBron James drives against Detroit Pistons guard Kentavious Caldwell-Pope (5), forwards Kyle Singler (25) and Greg Monroe during the second half at Quicken Loans Arena on Dec 28.   Ken Blaze / Usa Today Sports
(China Daily 01/01/2015 page11)