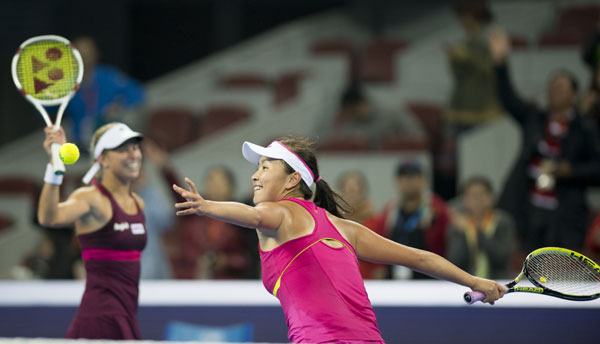 Andrea Hlavackova of Czech Republic and Peng Shuai (R) of China celebrate for victory after their women's doubles final match against Cara Black of Zimbabwe and Sania Mirza of India at the China Open tennis tournament in Beijing, China, Oct 4, 2014. [Photo/Xinhua]
SHENZHEN, China - Russian Zvonareva was drawn as Peng Shuai's Opponent in Shenzhen Open, as the drawing ceremony went dramatically in Shenzhen on Saturday with tough season-opening actions.
For the second year in a row, the luck of the draw did not favor Russia's Vera Zvonareva: the two-time Grand Slam finalist will again face China's top-ranked player in the first round, Peng Shuai.
Last year, Zvonareva fall to the eventual champion Li Na in the first round of her comeback campaign. However, with her shoulder feeling strong and two matches already under her belt in 2015, the Russian will be a formidable first-round opponent for Peng.
Though Zvonareva owns their head-to-head 7-2, all of her victories over Peng came before her injury-plagued 2013. Peng prevailed in their most recent meeting in March.
"Vera's a really good player. I played her last year at Indian Wells after her long injury layoff. It was a tough three-set match. I'm still looking forward to it," said Peng.
"It's my first match of the year, so I' m just going to try my best and keep fighting," she added.
Top seed Halep will face tenth seed Annika Beck, who returns as a 2013 quarterfinalist and 2014 semifinalist.
Halep has rocketed up the rankings from 65th to 3rd during the last year and a half. The Romanian reached her first Grand Slam final at Roland Garros, added two more WTA titles and closed her season as the finalist at the WTA Finals behind Serena Williams.
Second seed Kvitova will face Chinese wildcard Duan Yingying.The two-time Grand Slam champion has become a fan favorite in China.