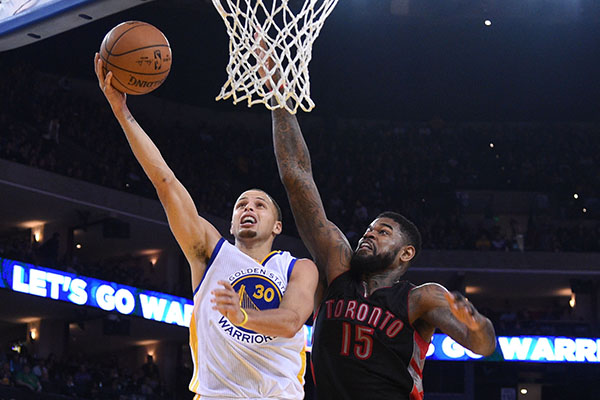 Golden State Warriors guard Stephen Curry (30) shoots a layup against Toronto Raptors forward Amir Johnson (15) during the third quarter at Oracle Arena in Oakland, Jan 2015. The Warriors defeated the Raptors 126-105. [Photo/Agencies, Kyle Terada-USA TODAY Sports]
OAKLAND, California - Stephen Curry had 32 points and 12 assists and Draymond Green got his first career triple-double as the Golden State Warriors rolled past the Toronto Raptors 126-105 on Friday in a matchup of the NBA's two conference leaders.
Green finished with 16 points, 13 assists and 11 rebounds, and three others scored in double digits to help the NBA-best Warriors (26-5) wear down the Raptors (24-9) in the second half. Golden State started the third quarter on a 23-5 run.
Toronto's loss allowed Atlanta to move into first in the Eastern Conference.
Greivis Vasquez scored 25 points, and Kyle Lowry had 22 points and eight assists for the Raptors, who lost consecutive road games for the first time this season. Toronto fell to 2-3 on its six-game trip, which ends at Phoenix on Sunday.
In other games, Rajon Rondo had a season-high 29 points to lead Dallas past the Celtics 119-101 in his return to Boston, Oklahoma City reached .500 for the first time this season with a 109-102 win over Washington, and surging Atlanta beat Utah 98-92 for its 19th win in the last 22 games.
In Boston, Rondo had a career-high five 3-pointers and also finished with six rebounds and five assists in his first game at TD Garden in an opponent's uniform. The rebuilding Celtics traded the four-time All-Star to Dallas last month.
"Obviously, it was a special day," Rondo said. "I'm emotionally tired. I'm physically tired, and I'm drained."