Beijing police get ready for November gathering
Beijing police have completed security planning for the upcoming APEC meeting, which they see as the most important event in the capital since the 2008 Olympics, an official said on Friday.
For police officers across the city, guaranteeing security at the meeting in Beijing's Huairou district in November is the top priority, said Fu Zhenghua, chief of the Beijing Public Security Bureau. "The meeting is the biggest event in the capital in the second half of the year, and its security arrangements and scale put it on a par with the 2008 Olympics," said Fu, who is also the vice-minister of public security.
In four months, representatives of many countries, including foreign leaders, journalists and businesspeople, will gather in Beijing, he said.
To ensure that the event proceeds smoothly, he said, sub-command posts in the city will all have their own detailed, specific tasks and responsibilities in the security plan - such as training police officers or conducting security checks at meeting venues.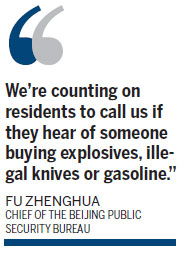 In addition, police officers in 13 jurisdictions outside Beijing - including Shaanxi and Hebei provinces - will help make the meeting secure, Fu said.
"We are counting on them to stop the transport of any dangerous materials to the capital. The more closely we check things in surrounding areas, the safer our city will be," he said.
He emphasized anti-terrorism efforts, saying terrorist prevention, especially during the meeting, is the core of the bureau's work, and he encouraged the public to provide terrorism-related tips via the Beijing Public Security Bureau hotline.
"We will continue strict security checks in subway and gas stations, and we're counting on residents to call us if they hear of someone buying explosives, illegal knives or gasoline," he said.
By the end of September, Beijing's security and police officers must be at their best level since the 2008 Olympics, he said.
Another important factor in guaranteeing safety at the meeting is intelligence communication and sharing with other countries, and this too should be improved, said Dai Peng, director of the investigation department of the People's Public Security University of China.
"Effective counterterrorism in the capital is absolutely crucial, so we can't be careless in security work, especially when it concerns competitions and big conferences," Dai said.