RIO DE JANEIRO - The best player in the world goes up against the ultimate team machine, on the world's biggest stage.
When Lionel Messi's Argentina takes on Germany in Sunday's World Cup final, it looks at first glance like a meeting between brilliant individual scoring talent and the tight discipline of a collective unit.
But this game will be about much more than that.
Argentina has shown that it can play just as tactically as the Germans, eking out narrow victories and doing whatever is needed to win. Germany, meanwhile, has put on two of the most explosive displays of the tournament - beating Portugal 4-0 in its opening game and then demolishing host Brazil 7-1 in the semifinals.
Add in the rich history between these two teams - who faced each other in two straight World Cup finals in 1986 and 1990, winning one each - and it's anyone's guess who will come out on top at the Maracana Stadium.
Here is a look at how the two finalists compare: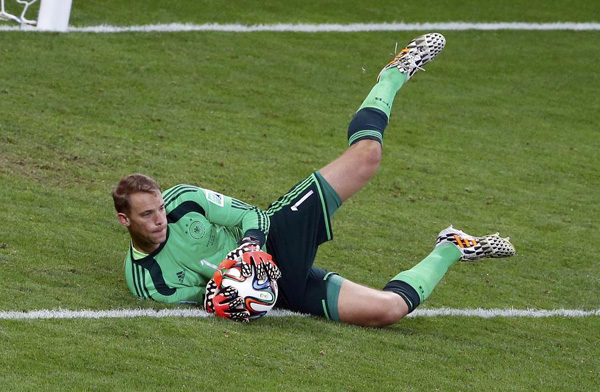 Germany's goalkeeper Manuel Neuer makes a save against Brazil during their 2014 World Cup semifinals at the Mineirao stadium in Belo Horizonte, July 8, 2014. [Photo/Agencies]
Goalkeepers:
Manuel Neuer's reputation as one of the best goalkeepers in the world has only grown in Brazil, where he has been one of Germany's best players throughout the tournament, especially in the knockout rounds. Aside from being a first-class shot stopper, the Bayern Munich goalkeeper showed his versatility by repeatedly rushing out to help the defense in the second-round win over Algeria. He then made key saves to deny Karim Benzema an equalizer for France in the quarterfinals, and a number of impressive stops against Brazil.
Sergio Romero has answered most sceptics who questioned whether he was good enough to play for a top team in a World Cup. Romero was only a backup for his club Monaco this past season, but came through big in the penalty shootout against the Netherlands with two saves to send his team into the final. He has kept three straight clean sheets in the knockout rounds, but will face his greatest challenge yet against the clinical Germans.
Advantage: Germany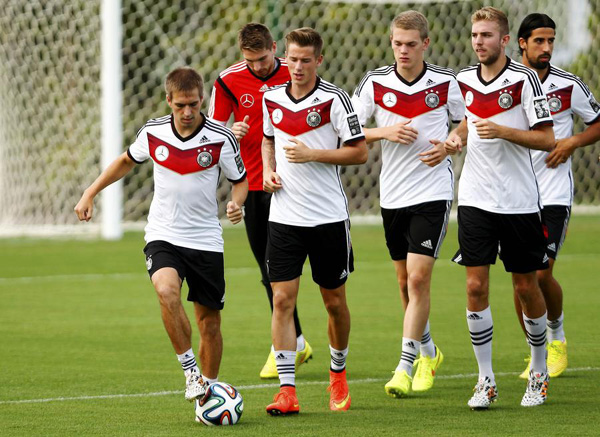 Germany's national soccer team player Philipp Lahm (L) and his teammates run during a training session in the village of Santo Andre north of Porto Seguro July 10, 2014. The picture shows from L to R: Philipp Lahm, goalkeeper Ron-Robert Zieler, Erik Durm, Matthias Ginter, Christoph Kramer and Sami Khedira. [Photo/Agencies]
Defense:
Germany's defense has improved vastly since coach Joachim Loew took captain Philip Lahm out of midfield and put him back in his favored position as right back after an erratic display against Algeria in the second round. Mats Hummels has been a steady anchor in central defense, and Germany had little trouble neutralizing the explosive attacks of both France and Brazil. Whether they can deal with Messi is another matter.
Argentina's defense was seen as its main weakness going into the World Cup, but the team has now gone 330 minutes without conceding a goal in the knockout rounds - including two extra time periods. The back four, which includes Manchester City duo Pablo Zabaleta and Martin Demichelis, made Dutch strikers Arjen Robben and Robin van Persie look plain ordinary.
Advantage: Germany

Midfield:
This is Germany's biggest strength, a unit without weakness that plays together as a well-oiled machine. Bastian Schweinsteiger and Sami Khedira shore things up defensively while Toni Kroos and Mesut Ozil direct most of the attacks going forward. Germany's ruthless display against Brazil was orchestrated by the clinical efficiency of its midfield, and a similar display on Sunday might just be too much for Argentina to handle as well.
The Argentines, meanwhile, are hoping that Angel Di Maria will recover from a thigh injury to play in the final. Di Maria's pace and ability to take on defenders on the wing was sorely missed against the Netherlands, when his team struggled to find ways forward. Defensive midfielder Javier Mascherano was one of the best players on the pitch against the Netherlands and is the key to keeping Germany in check.
Advantage: Germany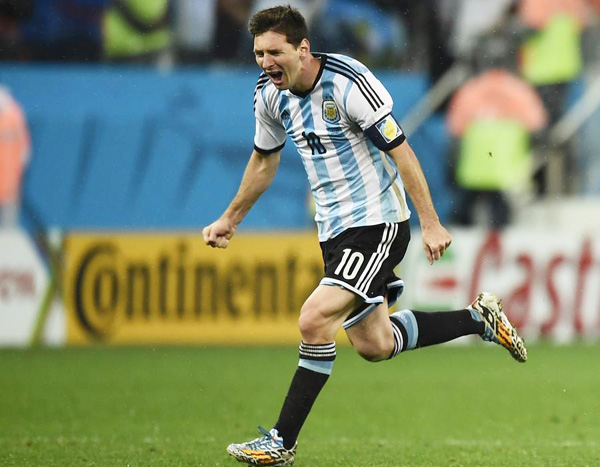 Argentina's Lionel Messi celebrates after his teammate Maxi Rodriguez scores the winning goal against Netherlands during a penalty shootout in their 2014 World Cup semifinals at the Corinthians arena in Sao Paulo, July 9, 2014. [Photo/Agencies]
Attack:
Germany has the highest-scoring player in World Cup history in Miroslav Klose. But Argentina has Messi, and two other top forwards to boot. While Messi hasn't scored in the three knockout games, his four goals in the group stage reminded everyone of why he's a four-time world player of the year. Even with Sergio Aguero and Gonzalo Higuain in the team, Messi has always been the key to Argentina's success - and never more so than in the biggest game of his career. For Argentina to have a chance, Messi will have to create goals - either for himself or for his teammates.
Germany aren't bad up front either: Klose netted his 16th career World Cup goal against Brazil, and his teammate Thomas Mueller already has 10 in just two tournaments.
Advantage: Argentina