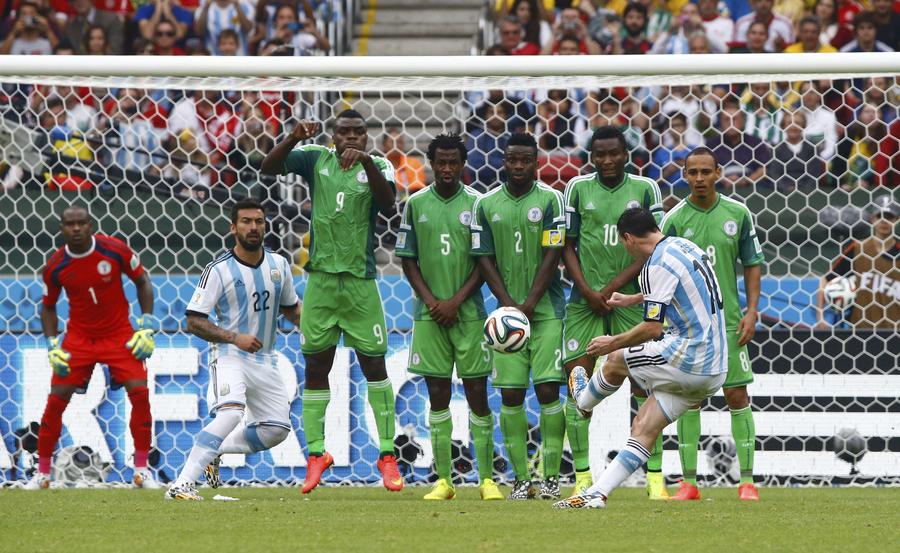 Argentina's Lionel Messi scores on a free kick during the 2014 World Cup Group F soccer match against Nigeria at the Beira Rio stadium in Porto Alegre, June 25, 2014. [Photo/Agencies]
RIO DE JANEIRO - Lionel Messi scored at the start and end of the first half as Argentina beat Nigeria 3-2 in a thriller on Wednesday to top World Cup Group F and the already-eliminated Bosnia recorded a pride-salvaging 3-1 win over Iran that meant both teams are heading home.
The battle for the World Cup's golden boot heated up between Barcelona teammates as Messi latched onto a rebound in just the third minute and then curled in a freekick shortly before halftime to match Neymar's tally of four in three games for Brazil.
One player who may not be in the reckoning for tournament top scorer is Luis Suarez, who is the focus of a FIFA disciplinary investigation after he appeared to bite the left shoulder of Italy defender Giorgio Chiellini on Tuesday and could be facing a lengthy ban.
The 22-year-old Neymar is relishing playing the World Cup at home and thriving on the pressure that brings.
"I'm doing what I've always wanted to do since I was a little kid," he said. "Today my dream is coming true, I'm playing the matches that I've always wanted to be playing."
Ahmed Musa matched Messi goal for goal in Porto Alegre, equalizing just a minute after Messi opened the scoring in the third minute and levelling again in the second half after Messi's perfectly curled free kick shortly before the break had put Argentina ahead again. Marcos Roja finally sealed Argentina's win in the 50th.