Barca rides Messi's trio grande
Defending La Liga champ back in hunt after thrilling 4-3 win over Real Madrid
Barcelona boss Gerardo Martino believes his side now has a great chance to retain its La Liga title as a Lionel Messi hat-trick handed it a vital 4-3 road win over Real Madrid on Sunday.
The Catalans still trail leader Atletico Madrid and Real by a point with nine games to go.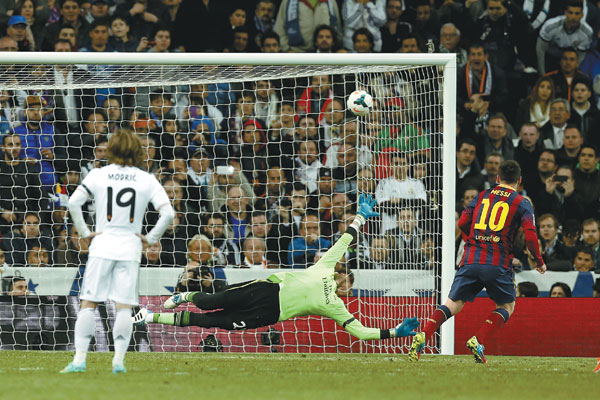 Barcelona's Lionel Messi scores the first of his three goals in Sunday's El Clasico against Real Madrid at Santiago Bernabeu stadium in Madrid. Barcelona went on to win 4-3. Andres Kudacki / Associated Press
However, having appeared out of the title race due to recent defeats away to Real Sociedad and Valladolid, Martino said his side has given itself a second chance at the title.
"The league starts anew now," he said.
"More than the mathematical distance we were behind, the impression was people wrote us off. Atletico Madrid was always in the fight and I think that after this result we are too.
"That Barca and Real are fighting until the end is normal and this year Atletico is too. With nine games to go they are the leaders.
"The reality is we have had dips and we are still not the leaders. We didn't play well in Valladolid or San Sebastian (against Sociedad), but we played very well tonight.
"With this result we get a boost in confidence that allows us to look at the future with a bit more hope."
Messi deservingly took most of the plaudits as he took his tally in Clasicos to 21 to become the all-time leading scorer in the fixture and also overtook Hugo Sanchez as the second highest scorer in the history of La Liga.
"It is difficult to talk about Leo because it is fruitless; compliment after compliment, record after record. Today I think he broke two records and it is deserved," Martino said.
"I have to value the work, effort and commitment of all the team. Leo has had many games like this.
"I think generally we controlled the center of the pitch with Xavi, Andres (Iniesta) Cesc (Fabregas) and (Sergio) Busquets and through our numerical supremacy and having more of the ball it allowed us to control more of the match."
Defender Gerard Pique said he believes winning at the Bernabeu is a big statement after the team's recent struggles.
"We knew that to win the league we had to win here and I think we saw a great spectacle on behalf of both teams. It was a very offensive match and the fans enjoyed it a lot," said Pique.
"To win here at the Bernabeu is always a big blow. I doubt anyone doesn't understand that with all the quality on the pitch.
"We had a lot of possession, we created chances and we deservedly won the game."
Pique also shrugged off Real's complaints, particularly from Cristiano Ronaldo, about the referee's influence on the game.
Alberto Undiano Mallenco awarded three penalties on the night, two to Barca and one to Real, with the final spot kick allowing Messi to slot home the winner six minutes from time.
"We are in a country where you witness such a great spectacle and afterwards people only speak about the referee's performance; it is very unjust for this sport."
Ronaldo did not share that view
"There were a lot of mistakes for just one game. A match between Real and Barca ought to have a high level of referee," he said.
"You can't make correct decisions when you are nervous. It makes me think that it is not just on the field that you win games - a little help from outside helps, too.
"My penalty might have been just outside the area, but there are many things that went on. It is difficult when many people didn't want us to win today."
Ronaldo's coach, Carlo Ancelotti, was more level-headed about Mallenco's decisions, but did agree that Sergio Ramos' red card swung the game in Barca's favor.
"I haven't seen it again and it is difficult for me to comment on the decisions of the referee, because there were many. But it was the key moment. We were winning 3-2 and controlling the game well, but it is much more difficult to control the game with one less player."
Defeat leaves Madrid still tied with Atletico Madrid atop the standings with 70 points, but in second place due to its inferior head-to-head against its local rival with Barca a point further back in third.