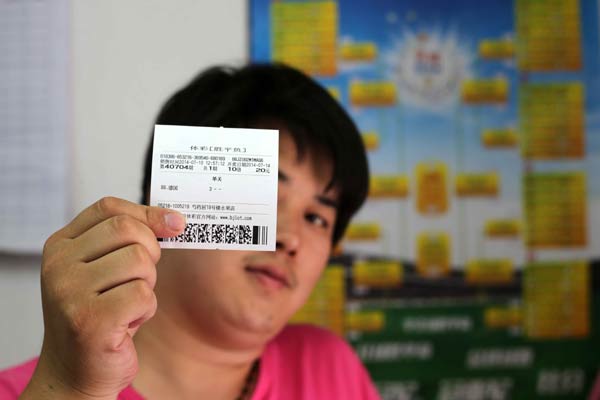 A man displays a World Cup lottery ticket at a shop in Beijing on Thursday. WANG JING/CHINA DAILY
Apart from watching games and drinking beer with friends at midnight, Shen Yiren, a 27-year-old salesman in Shenzhen, found another way to participate in the soccer carnival: buying sports lottery tickets.
He just spent about 3,000 yuan ($480) on the final game between Germany and Argentina through his mobile lottery app as he was boarding the flight to Beijing.
"I didn't expect such convenience in 2010 when I had to pay dollars to buy lottery tickets through Paypal," Shen said. "Now I only need to click a few buttons."
With the final match of the World Cup approaching, sports lottery sales are expected to explode. According to the China Sports Lottery Ad
mini
stration Center, sales of sports lottery tickets before the semifinal on Wednesday exceeded 9.5 billion yuan. Analysts expect the number to surpass 12 billion yuan by the end of the World Cup, sixfold the 2.2 billion yuan Chinese fans bet during the 2010 tournament.
Yu Wensheng, vice-president of 500.com, a US-listed company specializing in sports lotteries, said daily sales increased three to five times during the World Cup, and the daily number of buyers has jumped tenfold. Boosted by the market, the price of its stock went up by 8 percent in the first week of the tournament.
"Sales numbers are higher than we estimated at the end of last year," Yu said.
Other players such as e-commerce giant Alibaba and Internet company Tencent helped make it easier for people to game. Users of Tencent's mobile chatting app WeChat can buy tickets while chatting with their friends about the games. For only 2 yuan, you can sit at an online betting table.
"The lottery boom is beyond many insiders' expectations," said Li Jian, co-president of Caitong, a consulting firm focused on the lottery industry in Beijing. "Due to the fast development of the mobile internet, e-commerce and social media, many people began to enjoy the fun of lotteries during the soccer games."
Lottery sales totaled 309 billion yuan in China last year.
"The Internet has changed everything," said Cheng Yang, a lottery industry specialist in the Guangxi Zhuang autonomous region.
"Before 2010, we had limited lottery products and selling networks. Now nearly all big Internet players have joined the game, which really changed the rules."