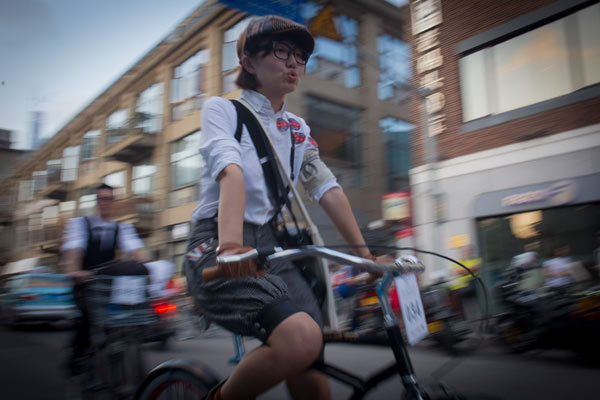 Cyclists wear anything they consider retro and ride two hours to promote bicycle culture. [Photos by Gao Erqiang / China Daily]
BEIJING - China produced fewer bicycles in May than a year ago as a growing number of Chinese prefer to own cars, according to data from the Ministry of Industry and Information Technology (MIIT).
China's two-wheeled bicycle output dipped 0.1 percent year on year to reach 5.15 million units in May, while electric bicycle production fell 4.8 percent from the previous year to 2.25 million units, according to the MIIT data.
For the first five months, China produced 24.17 million units of two-wheeled bicycles, up 1.9 percent year on year, while electric bicycles declined 2.2 percent to 9.51 million units.
China is in transformation from a nation of subsistence farmers to one of workers who are increasingly trading their bicycles for cars. Automobile output and sales both exceeded 11 million units in the first half of 2014, according to the China Association of Automobile Manufacturers.