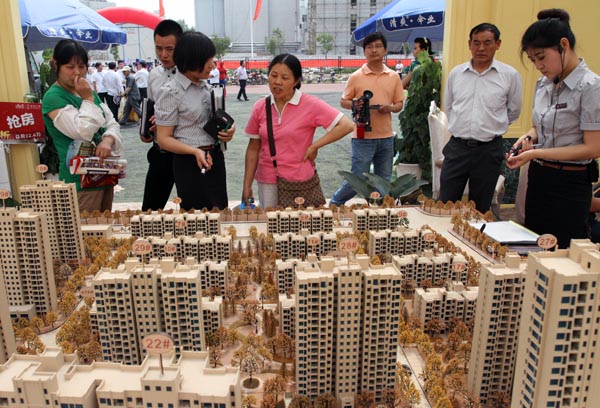 Potential homebuyers look at models of residential property in Huai'an, Jiangsu province. Average property prices in China will fall by 5 percent this year to about 10,291 yuan per square meter, according to analysts. Provided to China Daily
Strong demand, limited supply to offset chances of housing collapse, say analysts
The property market in China is likely to consolidate in the second half of the year, as strong demand and limited supplies will offset the chances of an imminent market collapse, market analysts said on Friday.
"We expect the property sector to see slower growth this year given that home prices and sales volume have fallen. However, the market will not collapse," said Raymond Ngai, head of China Property Research at Merrill Lynch (Asia Pacific) Ltd.
The financial services firm said average property prices in China will fall by 5 percent this year to about 10,291 yuan ($1,650) per square meter, while total sales volume will also see a 5 percent decline to 1.1 billion sq m by the end of the year.
Ngai indicated that sentiment is improving as the central government is applying differential policies. "Cities with high inventory rates will continue to release their own easing measures. Recently smaller cities have been more flexible in implementing Beijing's home purchase restrictions. The central government accepted such moves in order to let them, especially the small ones, digest their inventories," he said.
In the light of nationwide restriction on home purchasing, a dozen local governments have announced their own easing policies in various forms this year to encourage homebuyers.
Liu Shiyu, deputy governor of the People's Bank of China, also held a window guidance in May, ordering commercial banks to release mortgage loans to needy homebuyers.
"In other words, Beijing doesn't want to see a hard landing in the property sector," said Liao Qun, chief economist of China Citic Bank International Ltd in Hong Kong. "The central bank's move, the first in many years, indicates top policymakers' consensus that market adjustments should be mild.
"It's hard to say how long the adjustment will last. But if home prices stay flat for a year - not down, the bubble will shrink 10 percent or more. That's because household income is rising at the same time. The market will be much more stable through the consolidation. After all, buying real estate is still the top priority when people have money," Liao said.