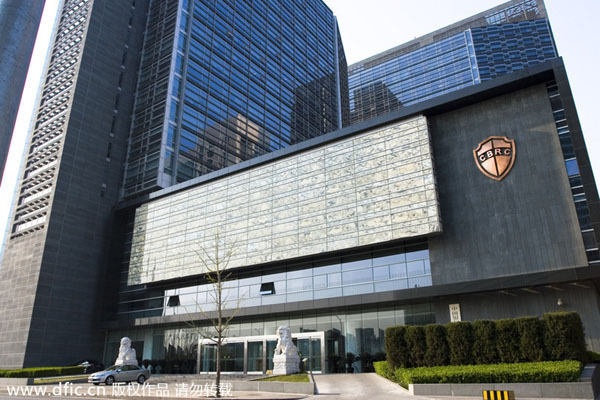 Photo taken on May 20, 2008, shows a view of the headquarters and head office of China Banking Regulatory Commission (CBRC) in Beijing.[Photo/IC]
The China Banking Regulatory Commission said on Friday it has told banks that they must set up special departments to run wealth management products and establish separate accounting systems for those departments to prevent risk spreading from wealth management products to banks' deposit and loan businesses.
The new departments should establish separate accounting, statistical analysis and performance appraisal systems, financial institutions were informed on Thursday.
Each WMP should have its own detailed accounts that are compiled independently, the CBRC said in a statement posted on its website.
The CBRC told banks to open separate accounts for wealth management businesses and proprietary trading businesses.
Banks may not use clients' wealth management funds for proprietary trading businesses. They should also establish separate risk management procedures and internal control systems accordingly.
Zhang Xuyang, general manager of the asset management department of China Everbright Bank Co Ltd, said the regulator is pushing forward banks' establishment of wealth management departments in three ways.
First, it will improve the organizational structure of the banks by creating a clear firewall between their wealth management businesses and proprietary trading businesses.
Second, it will standardize banks' investment activity and operations in terms of wealth management apart from making standards for selling such products. That will create an integrated regulatory framework for wealth management services, which will become more transparent with adequate information disclosure.
Finally, the new departments will have relatively independent operational and management systems. The systems, which have more market-oriented incentives, will enable the departments to attract staff who specialize in wealth management at a higher professional level, Zhang said.
Previously, banks have not had a clear way to isolate the risks of wealth management businesses from those of their proprietary businesses, said Ma Xutian, general manager of the asset management department at Bank of Communications Co Ltd.
At present, WMP investors are generally not prepared for volatile returns and even possible loss of capital, in the belief that they will get their principal back plus the expected returns from the banks even if the investment fails. That mindset has to change, Ma said.
Wealth management businesses have grown rapidly in China. By the end of May, more than 400 financial institutions in the banking sector offered 50,918 such products, with a total balance of 13.97 trillion yuan ($2.25 trillion).